Logomania – show your label choice!
Logomania is back with total strength! It was a sign of style and good taste in the 90s, when you could wear brands and their visible logos from head to toe… after some time, it was restricted to sunglasses and some bags. The new century considered wearing some logos kitsch and tasteless. Now Louis Vuitton (who never stopped displaying the famous LV logo on their goods), for example, launched a collection – as part of the 160th brand anniversary – called "Celebrating Monogram" (or the Icon and the Iconoclasts), with designers such as Christian Louboutin, Karl Lagerfeld and Rei Kawakubo, among many others, showing their take on Louis Vuitton goods. Lagerfeld, for instance, created boxing gloves and even a punching bag using LV logo. Louboutin designed a shopping trolley and Rei Kawakubo, the Comme des Garçons designer, the bag shown below.
Many other labels are following the not-so-new but current strong trend revival, like Gucci, Marc Jacobs, YSL and Kenzo, to quote but a few.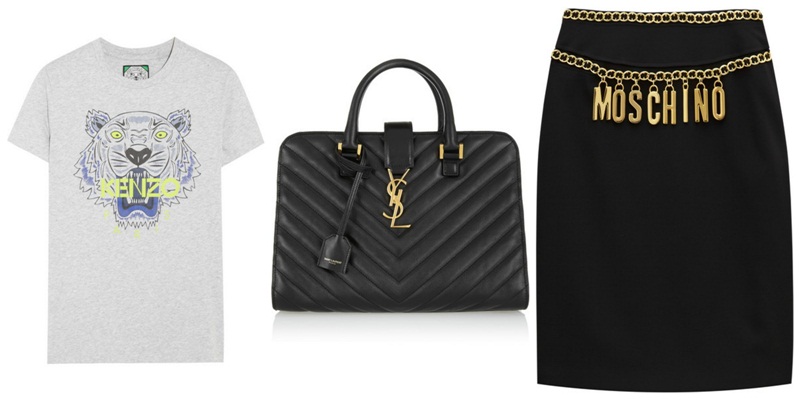 YSL  monogramme Cabas quilted tote, Moschino chain-trimmed crepe skirt and Kenzo printed cotton T-shirt
What do you think about "Logomania"? Do you currently wear it or, if not, would you like to?
Photos courtesy of Net-a-porter, Style and Independent