5 Easy Halloween Eye Makeup Looks to Try This Year
We all love to dress up in awesome costumes for Halloween, but we usually forget to focus on the makeup. Sometimes we all need a subtle finishing touch. I am here with five very easy Halloween eye makeup looks that can give you a top look on October 31st. Try different fun colored eyeshadows and eyeliners to create the ultimate eye look. Have a look at some major natural eye makeup inspiration that I have gathered for you.
The Black Cat Look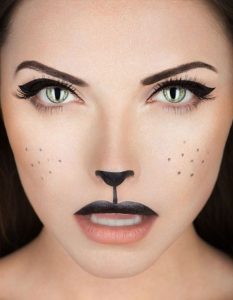 This is the cat eye makeup look, but I am adding a little more flavor into it. So you begin the eye makeup by applying eyeliner on your upper eyelid. Make sure you use matte black eyeliner, and it should be winged to give the proper cat eye look. To get the good winged eyeliner, you should consider using a scotch tape. Start applying the eyeliner from the middle of your upper lid and as you do so, do not stretch the skin. You can enhance this look further by drawing a dot on the tip of your nose as well as some whiskers on your cheeks with a black waterproof eyeliner pencil.
Sexy Witch Look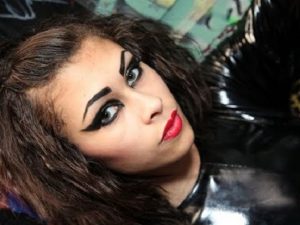 One of the classic Halloween costumes that most of us rely on. To begin this gothic glam look, you should go for smokey eyes makeup. Apply thick coats of black eyeliner on the top and bottom lash lines, then using a brush, smudge the liner and smoke it out. Using a dark brown eye shadow or matte black one, apply it to the upper eyelid and a little on the bottom lash line. Make sure you use a highlighter on your brow bone to make the entire eye makeup even sexier. You can finish the eye makeup by applying few coats of mascara. Apply a red lipstick and look hot!
The Mermaid Eye Makeup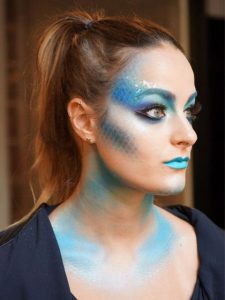 With the recent love for glitters and mermaid eye makeup, I thought it is best to share the eye makeup tutorial with you. To get started, take a pair of fishnet tights and slide one leg over the top of your head so that it is covering the top half of your face. Now you can go for blues or purples, but I recommend you to go for both shades. Dampen your skin along the temples and using your index finger pat some glittery blue and purple eye shadow on your temple. Make sure you also apply some loose highlighter along your temples to make the scales glisten. For the eyes go for the aqua blue glittery eyeliner but instead of applying it on the upper eyelid go for some change. Apply it on the lower eyelid and pat some loose glitter beneath the eyeliner. Next, loosely pat shimmery gold eye shadow on your upper eyelid and finish with a coat of mascara.
The Sexy Vampire Look
Are you inspired by The Vampire Diaries? Do you want to have a scary look this Halloween? Do you want some easy makeup tutorial to follow? Yes, this is the right place for you. To create the sexy vampire look, start by blending a taupe colored eyeshadow into the crease of your eye, this enables you to create depth. Next, pat a metallic burgundy shadow all over your upper eyelid, stopping just below the crease of your eye. Using a fine brush, apply the same metallic burgundy color close to your lower lash line. To get the super-sultry look, use a matte black eye shadow at the outer corners of your eyes. To finish the look, apply false lashes and mascara. This is one of my favorite looks just by the way.
Cleopatra Eye Makeup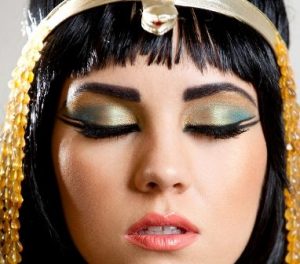 Elizabeth Taylor or Adriana Lima's Cleopatra look? It is hard to decide. Let's go for the modern look! That is Adriana's Cleopatra look. You need to have the perfect arched brown for this look. To create arched eyebrows, use a very dark pencil and then apply a little gold eye shadow on your brow bones. Next, apply shimmery gold eye shadow on your upper eyelid. Then go for the eyeliner. In Cleopatra's case, you need to exaggerate the eye shape and to do so; you have to extend the eyeliner beyond the eye, going straight across rather than upward. The eyeliner should thick and matte black in color. Apply some coats of mascara and you are done!
I hope you will try these very smooth and manageable eye makeup looks this Halloween. Do share your views once you apply these five easy Halloween eye makeup looks.