Illuminizers and primers review
I know many people love products that leave a matte velvety finish to the skin – but I'm the contrary 🙂 I'm always trying to find a good illuminizer, either a powder one or a cream. I like a dewy effect, with a subtle glow.
These products are a mix of illuminizers and primers, as they define themselves. I really don't see them as primers, but alas, I can't disagree with the brands.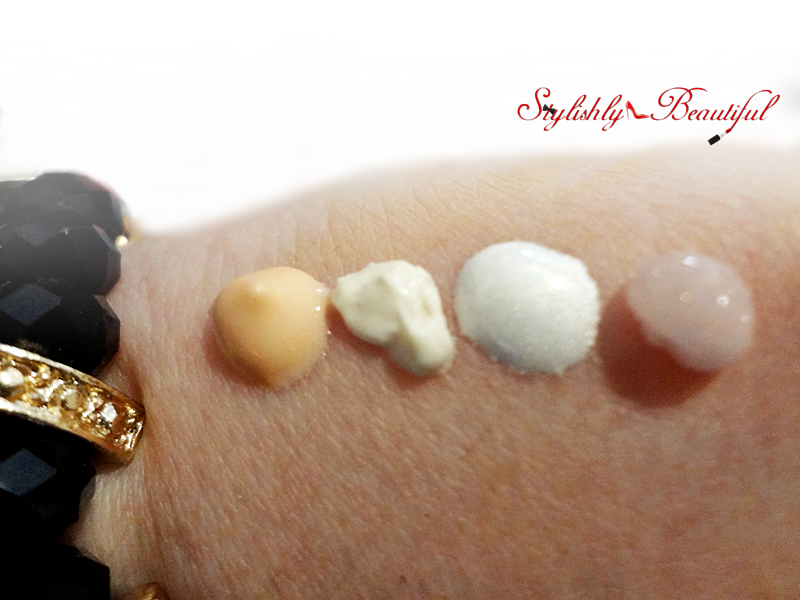 My opinions about them are from left to right:
1) Bourjois Happy Light Luminous Serum Primer – it's a good moisturizer, not really a primer in my opinion. It does what it promises – leaves a certain glow and it's gentle to skin; very light and refreshing.
2) Simple Kind to Skin Illuminating Radiance Cream – this is really a very good cream and it does leave some luminous particles to your skin. More than Bourjois, but still in a subtle way.
3) L'Oréal Lumi Magique Pure Light Primer – when you start applying that to your face, you think it's like chalk. Not the consistency, but the color. It's a bit artificial at first. I don't see or feel it as a primer. But after the first impression, if you spread it well you have a real glow on your skin, although a bit exaggerated.
4) Paul and Joe Pearl Foundation Primer – another one that I don't see as a primer. It's like a gel that leaves shiny particles on your skin, in again a subtle, fresh and silky way.  Maybe it's what it says, a primer. But I see primers like covering pores well, and this one just leaves the skin fresh and subtly luminous, as I said. It has colored "pearls" inside the bottle, and when you press one, it gives you even more shine.
My favorite among them is #2. And amazingly, it's the cheapest!
All products shown here are mine
Photo © StylishlyBeautiful.com by Denise S.