Meet the blogger | Soundtrack of my E-life

Evangelia is a very sweet and friendly girl. I've been reading her blog for the past few years and I always liked the way she writes. Plus, we have common interests as we both love talking and sharing our impressions about beauty products. Moreover, she started her own YouTube channel a few months ago and she's been sharing really interesting videos. I'm happy to introduce you to Evangelia through her interview below!!
1) Stylishly Beautiful Team (from now on SBT): Tell us a few things about yourself.
My name is Evaggelia but I won't say my age haha! I'm coming from Evritania and Mitilini. I like listening to music and singing all the time!!!
2) SBT: How did you decide to create your own blog?
While I was surfing on the internet, I discovered blogs. You can write whatever you want without any limit or censorship. Like every  girl addicted to cosmetics and everything related to beauty, I thought to start my own, in order write my own opinion.

3) SBT: What inspired the name of your blog?
As I mentioned above, I really love music. I like listening to music the whole day. Depending on my mood, I listen the respective kind of it.  So, I have a soundtrack for every moment of my day and I found it a good idea to give a relative name to my blog as it is about my life. And that's how I named it "Soundtrack of my E-life"!
4) SBT: You also have a YouTube channel. Do you like it more than writing in a blog?
Honestly, I like it more because it's more interactive. Everyone can see you and your reactions. Sometimes, it's hard for someone to understand exactly what you mean through your articles. I also think that it's a more immediate mean of communication.

5) SBT: Which is the beauty product you cannot live without?
The Avene Cleananse gel is an important skin care product for me, because of my acne. Moreover, I never leave my house without taking a lipstick with me. It's rare not to have one with me!
6) SBT: What is your night beauty routine?
I start by taking off my make-up. I will use either an oil dedicated for that purpose or almond oil. I clean my face with the Avene cleananse gel and I apply a serum form Castalia and an eye-cream with royal jelly from dr. organic. The last step is my face cream for sensitive skin by Castalia.

7) SBT: What do you like to emphasize on, in your make-up look, your eyes or your lips?
I seldom emphasize on my eyes on my make-up look. But I never forget to wear a lipstick and I usually choose an bright shade.
8) SBT: Which are the 5 key pieces, in your opinion, everyone should have in their closet?
One of them is definitely a pair of jeans that flatters you, according to your body type.
A white shirt that you can wear from work to more formal situations.
A black dress for all these times that you don't know that to wear.
A pair or high heels, a black simple one because that can be combined with everything and they are stylish!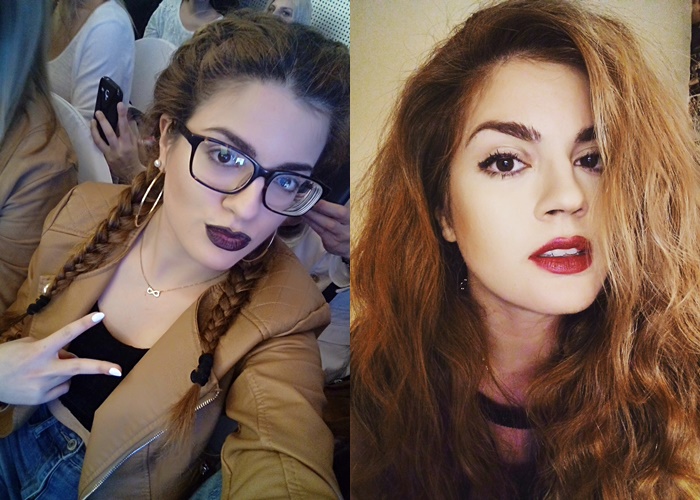 9) SBT: What are your future plans/dreams?
In the future, I would like to have a job related to my degree. I love teaching, especially in a classroom but it's difficult to find something similar these days. I would also love to travel a lot and gain more popularity as a part of the Greek YouTube community.
10) SBT: Our final question is: Tell us a few things we may not know about you.
Hm…something that you probably don't know about me is that I love singing. I would even like to perform at some place some day, but unfortunately I never went for it.
I would like to thank the Stylishly Beautiful's team for the interview and I wish you the best!!
You can find Evangelia on: