Autumn eyeshadow palettes
Autumn is finally here and as we do on the beginning of every season, we are going to clear out our make-up collection and renew it, by adding some stuff to it. Let's start with some eye shadow palettes for Fall.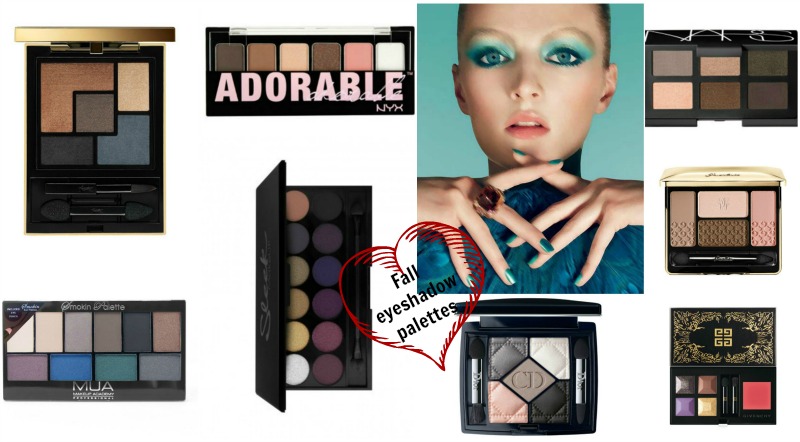 From left to right:
Couture Palette Collector Fétiche by Yves Saint Laurent. This palette comes with five muted tones of eye shadow, an amazon green, a silky brown, an intense matt black, a pearly camel and a burnt gold. Combine them all for an added dramatic effect.
Smokin Palette by MUA. This is suitable for trips with a lovely package and ten eye shades in a mix of matte nudes and shimmering jewel tones, complete with an intense smoky black kohl pencil.
The adorable palette by NYX. When I saw it, a variety of nice and girly looks crossed my mind. Of course you can create many others for morning looks or more stunning night ones.
I-Divine in Vintage Romance by Sleek. It includes 12 shades of super pigmented eye shadows which have romantic names after big international cities. They are also perfect for creating romantic smokey eyes which are especially popular in fall and winter.
5 Couleurs palette by Dior. This palette has bright and bold colors so you can create many different make up looks.
And God Created The Woman palette by Nars. A palette of six, sparkling eye shadows ranging from beige to deep brown and containing a mini applicator brush and a base coat. Housed in a neat, compact case perfect for slipping into your pocket or handbag for pristine eye make-up on the go.
L'Ecrin 4 Couleurs by Guerlain. With shades of pink, grey and chocolate, this Guerlain palette will be one of the most wanted. They match perfectly to each other, so you can easily blend them together.
Extravagancia palette by Givenchy. The idea of this beautiful case with the leafy patterned logo on it, is a combination of three purple tones and one gold shade paired with a subtle pink lip color so you can create a whole look with only one palette.
All products' photos belong to the companies' sites
Collage made by me
The central photo is from DIOR  – Haute Couture Eyeshadow Palette