Meet the blogger | June wants it all

Meet June, a blogger from India, who writes about fashion, restaurants, trips, beauty products and more! June is the blogger behind the lovely "June wants it all". She is really very versatile and she has very good taste, be it about food or fashion! We loved to interview her and now, let's get to know June better!
1) Stylishly Beautiful Team (from now on SBT): Tell us a few things about yourself.
Hi! My name is June Biswas and I'm from India. My dad was in the army, so I've traveled a lot and have lived in various cities all over the country. Besides my obvious love for fashion and beauty, I am a huge foodie and love eating and cooking. I also tend to geek out and love playing video games.
2) SBT: How did you decide to create your blog?
I created my blog in 2008 while I was in college because I was inspired by numerous other blogs I used to read.
3) SBT: What inspired the name of your blog?
I named it 'I Want It All' as it was like a virtual diary where I'd document my wishlists and things that appealed to me.
4) SBT: Which are the 5 key pieces, in your opinion, everyone should have in their closet?
Essentials for me include a basic white tank, a white shirt, black skinny pants, a pair of black heels and a black bag. These pieces are great because they match with everything and you can pair them with various styles and colors.  Yes, I'm all about monochrome.
5) SBT: How would you describe your style?
I'm kind of a style chameleon. Some days it's really relaxed and on others I like to glam up. Overall, I'd describe it as a mix of edgy, glamorous and urban boho.
6) SBT: Do you see yourself more like a fashion blogger or a food blogger, since you write about it too?
Even though I spend a lot of time thinking about and obsessing over food, I still see myself as a fashion blogger.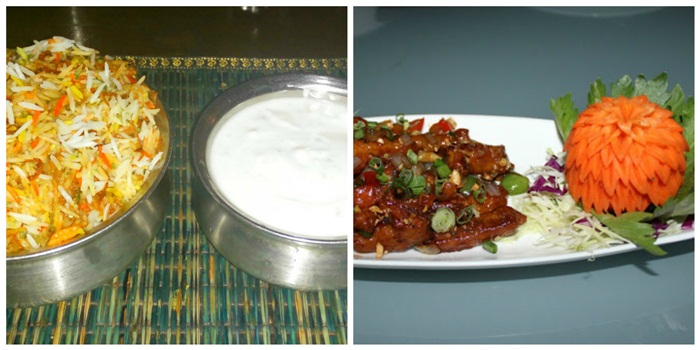 7) SBT: What's blogging for you?
It's a platform where I share my thoughts, opinions, tips and reviews with the world. I want my blog to help others for fashion inspiration, shopping and dining decisions and for random fun tidbits of entertainment.
8) SBT: What would you advise someone who who wants to start blogging?
Choose a clean layout, keep your images large and try to post to your blog at least once a week!
9) SBT: What would you say is the best and the worst part of blogging?
There are just so many amazing things about blogging! It helps me connect with fellow bloggers and learn about what's going on in their end of the world. I have even made a lot of friends thanks to the blog. On the professional front, it's fantastic because I am regularly approached by numerous international brands for collaborations and get to work with them. And of course, the recognition you get is fantastic. You feel great when you get written about in newspapers and magazines! And lastly, it's so nice when someone walks up to you and tells you that they enjoy reading your blog. I don't think there's anything I can say negative about blogging.
10) SBT: What are your plans for the future?
I honestly have no idea. I just live each day to the fullest, and let's see what the future has in store for me!
10 +1) SBT: Tell us a few things we may still not know about you.
I am hooked on to spicy food. I love chillies and like to generously add chopped green chillies or red chilly flakes in everything! I even douse my bloody marys with tabasco. I am PETRIFIED of cockroaches and will scream and run ten miles in the opposite direction when I see one, although I have no problems catching, touching or hanging out with snakes, rats, lizards, scorpions or spiders. I am also strangely superstitious.
Follow June: