Meet the Youtuber | Angie Kariofilli

Angeliki is a really sweet and polite girl, who exudes a very positive energy, and I'm happy I was able to meet her in person, recently. If you watch her videos too, you'll see that she's exactly as I describe her. But this is also obvious from the answers she gave to this interview. If you want to learn more about her, continue reading, and make sure to visit her blog, Youtube channel, and her various social media accounts.

1) SBT: Tell us a few things about yourself.

I'm Angie, aka Angeliki. Angie is a nickname, short for Angeliki that follows me since high school, when our mathematician gave it to me. Most of the people who knew me from that period of time, might know me as Angie. I'm from Drama, Greece, and for the past decade of my life, I've been living in Thessaloniki.

2)

SBT: How and when did you decide to start your own Youtube channel? 
The decision to film and upload my first video was a spontaneous one, back in 2011, after hours and hours on Youtube. The main reason for this decision was my loneliness on a really difficult period of my life, when Youtube was my only outlet. It was the tool I used to connect with other people, while giving myself the opportunity to channel my energy to something positive and creative.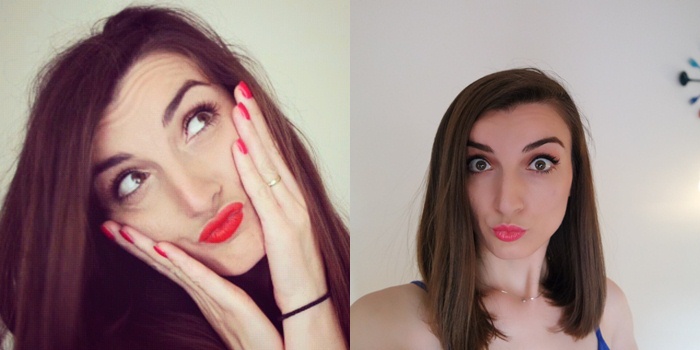 3)

SBT: Which was the first video you ever uploaded, and which where your feelings after you uploaded it? 
On my first video, I was talking about a nail polish I liked, and it was so dark and awkward that I think I've deleted it. I don't remember my feelings about this video, but I remember that for a long time I was terrified of the idea of being found out by someone I knew. I had no idea there was a Greek Youtube community. I found out, while I was trying to search for my own video through a search engine.

4)

SBT: Which beauty product you can not live without? 
Definitely my hand cream, because I suffer from eczema and there are many creams scattered around the house, the car, and the bags I use.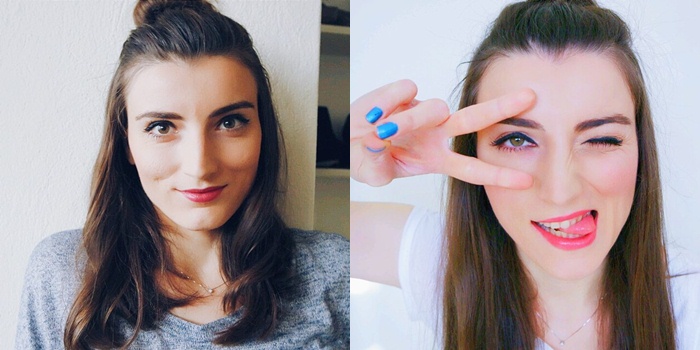 5)

SBT: Have you encountered any difficulties since you started your own channel? 
There are always difficulties, and there will always be challenges. I remember that I used to film my videos on my laptop which made an irritating noise (it still does and I still use it), but that didn't stop me, and I continued uploading new videos. A few of them are still public on my channel. The quality is almost embarrassing, but I keep them there to remind me of how I started.

6)

SBT: How do you usually react to negative comments? 
With love, politeness, and serious thought. There's the perception that negative comments come from the so-called haters, but I'm opposed to this thought. If there's a negative comment, I accept it as criticism, I filter it, I respond with politeness and I move on. If it's offensive or has nothing to offer, I delete it. So simple! Our world is constantly filled with negativity, and I don't want to be a part of this cycle.

7)

SBT: What's your favorite type of video from the ones you make? 
My favorite kind of videos, by far, are definitely vlogs.
8)

SBT: Do you think that

Youtube-ing has changed you in any way? 
It has changes me in many different ways. It has definitely boosted my confidence, and has contributed to not stop envisioning a better tomorrow, and dreaming daily. Because the platform of Youtube was created by people with dreams and a vision for a better future. All its algorithms are based on this philosophy.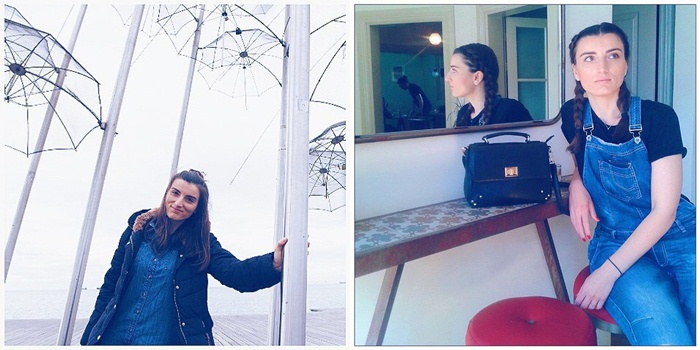 9) SBT:

Lately you made a small change to the theme of your channel with more advisory videos, not only about beauty, but also vegan lifestyle. Do you believe that your audience has embraced this new effort? Do you plan to continue such videos? 
Every new change has supporters and challengers. I've definitely seen some skepticism around the videos with the new theme, but it's still too early to have a clear image. I hope and wish for the best. I'll continue creating more lifestyle videos, because as I'm getting older, my perception for everything around me also changes. I want my channel to reflect the values and ethos I hold as a person, and not to focus entirely on my taste around cosmetics.

10)

SBT: Which are your future plans/dreams, concerning not only your channel but also your personal life? 
The answer to the 9th question is my goal for my channel, and also to make more collaborations with people whose videos I love to watch. As for my personal life, the only thing I wish and hope for is to maintain the love I have in my life, and my health. It may be a cliche but no matter how many years pass by, these two will always be my main goals in life. Love is the only answer to all of our problems…
Follow Angie: