Stylishly Beautiful Team's favorite products of Summer 2017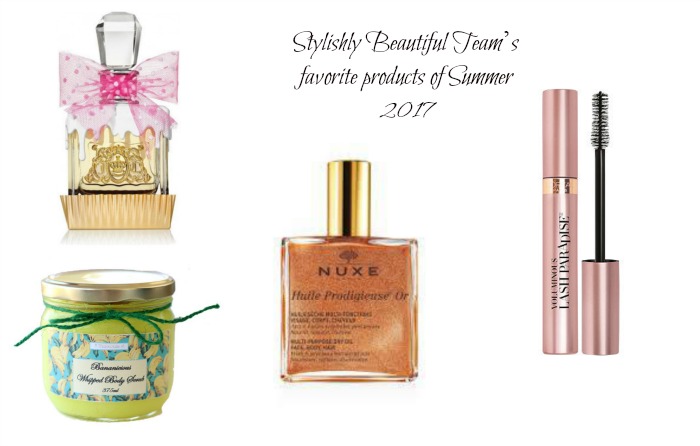 There is no better way to start a new season than to talk about the products you loved using the previous one. For us, summer means carelessness. We like using beautifully scented products and adding intensity to our make-up look. We hope you like our favourite products of this summer and let us know if you have already tried them or you would like to.
From top to bottom reverse clockwise:
Kleoniki: It's been a while since I bought a new perfume so I can honestly say that the Viva La Juicy Sucre Eau de Parfum by Juicy Couture was love at first sight. It's an intense floral one with notes like vanilla, gardenia, jasmine, sandalwood and peach. It's elegant, uplifting and playful at the same time. I thought I didn't like sweet perfumes but the Viva La Juicy Sucre leaves a warm scent to your skin that really makes your day.
Markella: My favorite summer product is definitely the whipped body scrub by the Greek brand Unicornia. Unicornia's products are all natural and handmade. This scrub is called Bananicious, and as you can guess it smells heavenly and looks amazing too. It exfoliates your skin perfectly and leaves it super soft to the touch.
Katerina: My all time favourite beauty staple for summer is my Nuxe Dry Oil Huile Prodigieuse! It has a beautiful scent and gives the skin the most amazing glow, without feeling greasy! It makes you look tan and healthy and also hyrdrates the skin! I simply love it!
Ioanna: My favourite product for this summer was the Lash Paradise mascara from L'Oreal Paris. It gives a lot of volume and length and makes the lashes appearing fuller. It also doesn't smudge or flaking on me. Do we need anything else from a mascara? I can safely say that it was the only mascara I used all summer and hands down one of the best I have ever used in my life!
SHOP THE POST: