Wooden shoes for summer days
Wooden shoes are not really a trend, since they are being worn for many years, but every time summer arrives they come back at many shops and many designers' collections! Let's be honest, they are lovely and comfortable! Obviously the high heeled-versions are good for summer evenings, but the low heeled-ones can be worn for strolls and going to the beach and taverns. So versatile! Let's see the latest selection!

From left to right: Valentino studded leather wedge sandals, Aldo Cayley Leather Fringe Wooden Heel sandals and Migato Black  High Heel sandals
Some other samples below – some heels may not look like wood, but they are. Some are covered by leather stripes, thus having kind of a timeless style: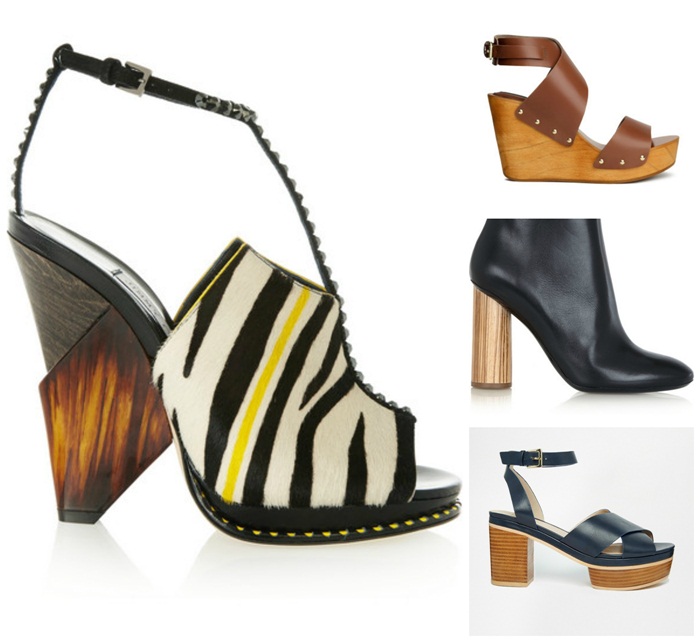 The bigger picture shows the quirky, but interesting Jimmy Choo Kascade calf hair and leather T-bar sandals, with a sculptured wooden heel. Then from top to bottom, H&M platform sandals in wood and leather; in the middle we have the Proenza Schouler leather ankle boots with wooden heel and finally, Asos Here and Now heeled sandals.
So, did you liked the selection? Of course these are just to inspire you, more styles are available at many good shops! Stay tuned because another selection of "summer shoes" is coming soon!
Photos courtesy of Asos, Net-a-Porter, Migato and H&M
SHOP THE POST: