Elizabeth Arden 8-hour cream review
I am already on my third bottle of Elizabeth Arden's famous 8-hour cream, so I thought of sharing why it's so famous 🙂 It seems it can be used for many purposes as for cuticles, lips, hands, face – I never wore it on cuticles, but one day I may try. As for lips, the brand has a special product, though this one can be applied on lips as well, as per my own experience. I even have it on my bedside table. It is a bit sticky, but as my lips tend to get very dry, I don't mind sleeping with it for eight hours. It really helps.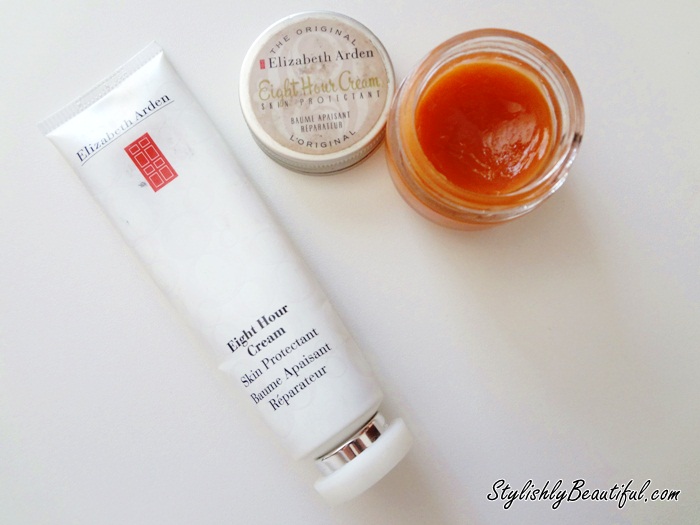 The expression "one bit goes a long way" is really interesting, because this is what happens with this cream. Well, for lips especially, since you won't need much of the product. You only need the smallest amount for soft lips, for many hours. You won't need to reapply it more than once a day. And that's it, smooth lips the whole day long! It is very hydrating, I can say.
This works well on plane trips, dry lips as I said, dry cuticles (as per the brand's ad), AND the main purpose is on the skin that needs a deep hydration – I have used it twice on my face, when my skin had dry patches – use it when you go to bed and in the morning… you will have the most amazing soft skin you ever wished! It's truly impressive!
The down sides are that it's sticky on the face and I bought the products with scent – now they are producing without scent. Go for the unscented versions of chapsticks and cream, cause the scented ones are really strong. Not pleasant at all, bearable, but really a strong medicinal scent. It is a bit greasy, so protect your hair when using it. For the skin, in the morning you won't feel any trace of it – well absorbing. I think it can also be good for dry elbows, though I have never worn it that way, but really, this cream is amazing for any dry patch!
I really consider this product as miraculous! 🙂
Products displayed here are my own – Photo © StylishlyBeautiful.com by Denise S.
SHOP ELIZABETH ARDEN 8-HOUR PRODUCTS: