Stylishly Beautiful Team's favorite products of 2015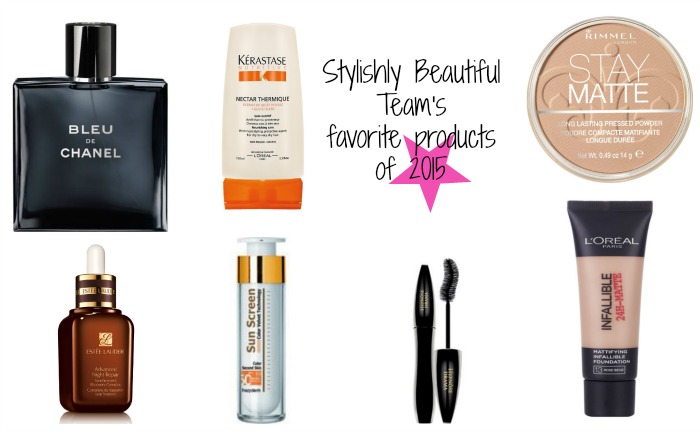 Even though we are in the middle of January, it's never too late to talk about beauty, especially for products that worth a try, so we decided to show you our team's favorite products of 2015. Let's see everyone's choice and we are waiting for your suggestions!!
From top to bottom reverse clockwise:
Anatoli: Kerastase Nectar Thermique; favorite product not only of 2015 but for a couple of years now! It's a light hair-cream which protects from the heat with an amazing smell. For me it has become irreplaceable, since it helps to format my wavy hair, and helps them stay straight for days!
George: The sophisticated scent of Bleu de Chanel perfume is one of my characteristics lately as everybody recognizes me from that. Its duration may surprise you because of its dominant notes of citrus and wood that exhale a fresh, clean and sensual mood. It's undoubtedly my favorite product for 2015 and possibly for 2016.
Markella: My favorite product for 2015, is definitely the Advanced Night Repair by Estee Lauder. After that one, I loved all serums, and their incredible benefits for the skin. Deep hydration and softness of the skin, when used along with your moisturizing cream. The only disadvantage I can find, it its hefty price tag.
Maria: Frezyderm's Sunscreen Velvet Face with color; I've been wearing this sunscreen daily for the past 8 months. Besides the high protection and the great finish of this product, it also gives me a great coverage since I don't really have much to hide, so its color is perfect for me! During summer it lasted all day long under the hot sun and it really was a gift from the Gods to me. I strongly suggest it to each and every one of you for daily use; it is the best product ever!
Denise: I like to buy 2 tubes of Lancome Hypnose Drama mascara, although I still have it, because I don't like to be surprised running out of the product. They are for me, still the best mascara ever – adds volume to the lashes and covers each lash in a great way.
Kleoniki: The Rimmel Stay Matte pressed powder is certainly one of my favorite products of 2015. It helps you control shine and oiliness. It's lightweight and provides a good long-lasting coverage without leaving a cakey effect. If you are looking for a natural flawless matte result, this product is the ideal choice.
SHOP THE POST: