Balance Me Super Moisturising Hand Cream review
I think I never told here, but some people who know me, know that I simply hate hand creams and body lotions. No matter how much a clerk tells me that "no, this one is not sticky like the others" (so they know all the "other" creams on the market?) – it doesn't matter, I feel sticky. But seriously, this year I have started to change concerning this aspect (and listened to one of my dermatologists 🙂 Due to my skin complexion and family genes, I have lentigines freckles on many parts of my body (meaning, not because of sun, but genetic) – and this means I have dry and sensitive skin at the same time (according to expert dermatologists in the journal Nutrition USA, whoever has dry skin will have freckles in a proportion that is 3 times higher than people with oily or combination skin). Recognizing that I was wrong about hand creams, and feeling my skin going drier and drier, I finally accepted a friend's recommendation — the Balance Me Super Moisturising Hand Cream – Ultra effective and seriously soothing. Yes, that's what comes written on the tube!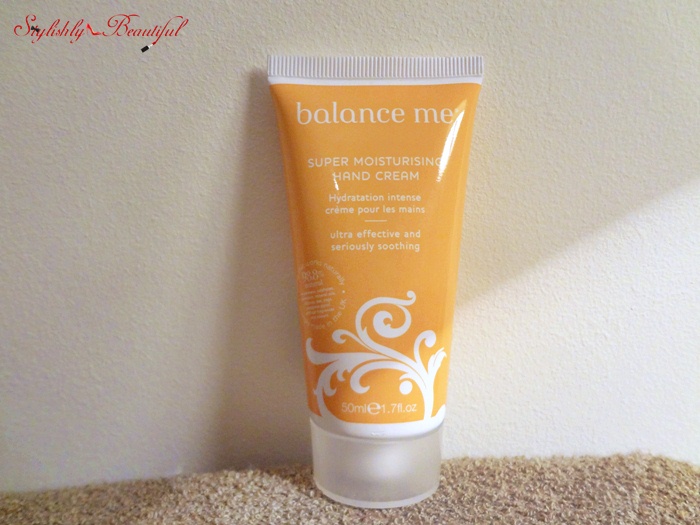 What are my feelings about this cream? Well, it does have a strong smell. I won't lie about it, medicinal. But it is definitely what it says – super, really super moisturizing (the cream is produced in the UK, therefore "moisturizing" written with letter "s" on the tube). It feels rich and it really solves – at least for some hours – the problem of dry hands. You don't have to spread the cream many times along the day, like some other creams, according to some friends, who told me they always spread hand creams many times a day. I do confess I still don't use the hand cream everyday, but I think I just have to get used to it. And by the way, for me the best feature – it is NOT sticky at all!
It is a multi-award winning product since 2009 and according to the producer, it "replenishes hands with deeply hydrating ingredients, soothes and protects against dryness and sensitivity". It is said that it is also an anti-aging product and it can treat dry patches all over the body, such as elbows and the heels of your feet – I guess this is a plus! The brand says it is made to dry skin, as well as sensitive and mature skin.
Balance Me started in 2005 and uses natural ingredients and I say – not my first hand cream, but all the others ditched – this one is already  on my bed side table and I will wear it at night, despite the strong smell. I totally recommend it!
Along the winter, I will go on testing other hand creams and will post about them, so stay tuned!
Product displayed here is my own – Photo © StylishlyBeautiful.com by Denise S