Smithfolio Fully Loaded-brush case review
We speak about new beauty products and brushes all the time but we hardly speak about brush cases. If you want to invest in good quality brushes then the most important thing that you have to do first is to invest in a really good brush case.  Personally, I can't think about having my clean brushes anywhere else instead of a case. As a makeup artist I tend to give extra attention to them because they are the most useful part of my job. Of course, I didn't buy my entire brush collection in one day but I built it up for year and I will continue to do so. The first this that I got though was a leather case to protect them. My collection grew a lot from then so I needed a new case. Luckily for me I have the best family (boyfriend and brother) and they gave me the Smithfolio fully loaded as a Christmas present. You can imagine my happiness that moment. It was a product that I wanted for so long.
Now that I told you how important I think a brush case is, let's move to the actual review. The Smithfolio fully loaded is a black hard leather case that has gold details. It comes with 4 plates made of strong pvc. There is one for small brushes, a double one for medium, one for large and one horizontal mesh pocket. The plates can be clasped in any place you want. There is also the Smithfolio that comes with 2 plates and you can buy other plates individually so you can get the ones that suits you more. It's super easy to clean, personally I prefer to clean it with a makeup remover cleansing milk.
The small plate can hold 26 brushes, the medium one can hold 14 at each side and finally the large one can hold 10 brushes. In the mesh pockets I store my beauty blender sponges. Although it's quite big, I find it perfect to travel with because you can adjust the plates you need and you can also store your liquid lipsticks, your eye and lip pencils, mascaras or anything else you want. It comes in a velvet bag which I find great because you can protect your case while travelling.
It's a product that is a must have for me and I think that it's great either you are a makeup artist or not.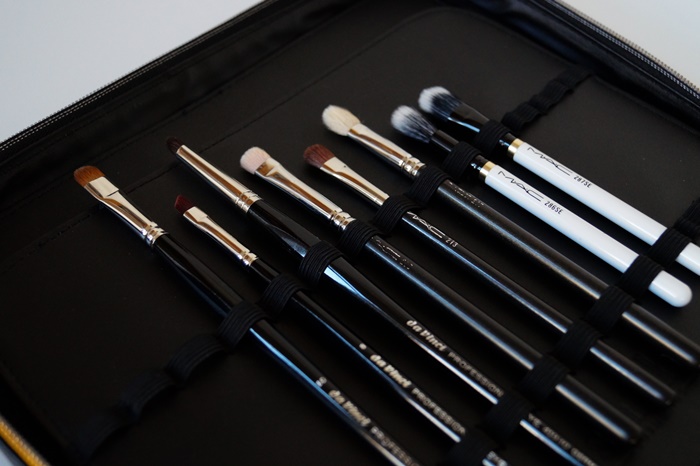 Photos courtesy of Ioanna T.