Have a Stylishly Beautiful Christmas | Photoshoot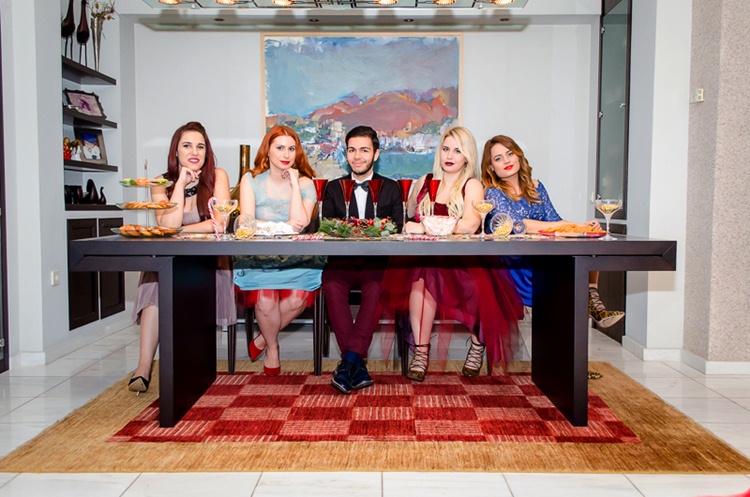 Since it's the first Christmas of Stylishly Beautiful, we thought it would be a nice idea to include George to our Christmas photoshoot, a kind of new tradition that only started last year. He happily accepted to be with us, so we spent 1.5-2 months organizing everything, till we could have this shoot for the 5 of us. We would have loved to be the full team together, but unfortunately, Denise couldn't come to Greece (she has also planned something special for later today, though), but we're hoping to be all together in future shootings (and finally have an official Stylishly Beautiful Team photo). That day we celebrated Christmas (a little earlier) together, so we can have our party, and spend the actual holidays with our families. Of course we had to dress up and of course we also had to make homemade delicacies to devour later (after the pizzas we ate). We also took footage for a little backstage video, as we wanted to start our Youtube channel (we have so many ideas for that channel, so make sure to subscribe to stay updated!).
Merry Christmas everybody! Stay tuned for more Christmas posts this week, and a little surprise on Christmas Day.
The team:
Anatoli | From An.ni with Love
Markella | Do You Speak Gossip?
Don't forget to also check our blogs for more photos of that day, and stay tuned for our outfit posts on our personal blogs.
Homemade treats:
Melomakarona, Butter & peanut butter cookies by me
Kourampiedes by Maria
We want thank our sponsors, who trusted us, and collaborated with us.
You'll find them down below.
All dresses and women's clothes courtesy of Largenti
All women's shoes courtesy of Sante shoes
Photos and editing by Stauros Athanasakis – El cocinero
Huge thanks to T. for providing our photoshoot location
and the video footage

Don't forget to also take part on our giveaway, which ends on the 24th at 23:59 (GMT+2), to win Lancome and Chanel products.