Bi-Facil Eye Makeup Remover by Lancome Review
The Lancome Bifacil eye makeup remover is kind of an "old product", but maybe there are people who still don't know it, so why not reviewing it to spread its benefits (and cons, as well ). It is a very potent remover to clean up all the eye makeup, even the waterproof one, even heavily pigmented, effortlessly and with no irritation, so it is safe for sensitive eyes and contact lenses' wearers.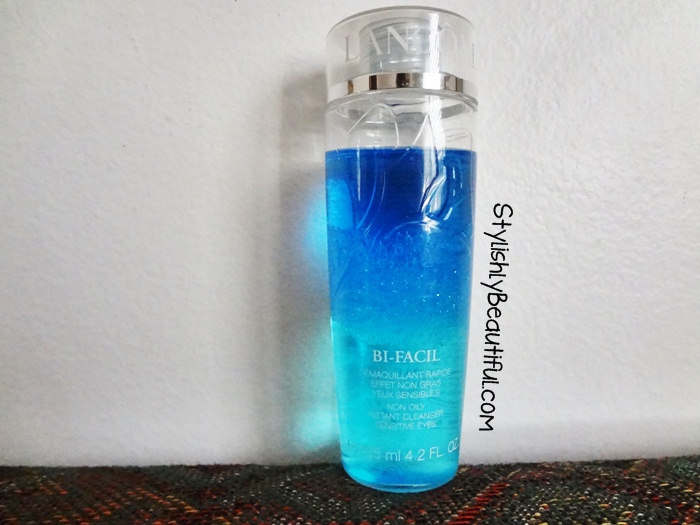 Now, those are the pros. The cons: the texture is too oily. It does what it promises, it means, it will remove all your eye makeup. But it leaves an oily film that even after you wash your face (and you will have to, after using it, maybe even twice), it's a hard time removing the oily film. Washing your face to remove the oily residues can dry your skin out, especially if you have sensitive or dry skin, or a combination of both. And you can't sleep with that oil layer on your eyelids, so you will need to wash it thoroughly. It's because the product has two different "liquids". One, thin, more like a tonic lotion and the other, the oil. You can see them pretty well. To make it work, you have to shake the bottle, mixing the two liquids.
I would recommend to use it in case you wore heavily pigmented makeup or waterproof mascara. Then to remove it use the Bifacil remover and then wipe the first layer of oil (after using it) with an oil free cleansing wipe, to do the first part of the job and then wash your face, so that you don't dry your eyes area out by washing it twice. That will do. I don't use Bifacil often, just when I have some layers of waterproof mascara – I am a contact lenses' wearer and do have sensitive skin.  Other than that, on a daily basis to remove a bit of makeup the great Greek soap mentioned
here
will do the job in a fine way! Still, I always have Bifacil (it's not my first bottle, rather the fourth) because sometimes you need its potent qualities to remove some eye makeup.
Product displayed here is my own – 
Photo © StylishlyBeautiful.com by Denise S.
SHOP THE POST: