Gucci Pre-Spring/Summer 2016
Gucci's new front man, Alessandro Michele is very different to Frida Giannini (his predecessor) and his show venue showed that. Brick walls and Moroccan rugs were seen, different to Giannini's glossed shows. Michele's warehouse show closed off West 22nd Street in Manhattan, so it was a grand happening, despite the rustic environment.
The expectations were then big and Michele delivered a beautiful and creative show. He said that "everybody wants to be special, especially a woman – when you go out, you want to feel special – it makes no sense to look like everyone else".  So the colors of the collection built for his Autumn/Winter debut clashed, but on purpose, and the models looked nerdy with glasses, but it was also part of the show. Clothes for real life is the message. Freedom to wear what you want!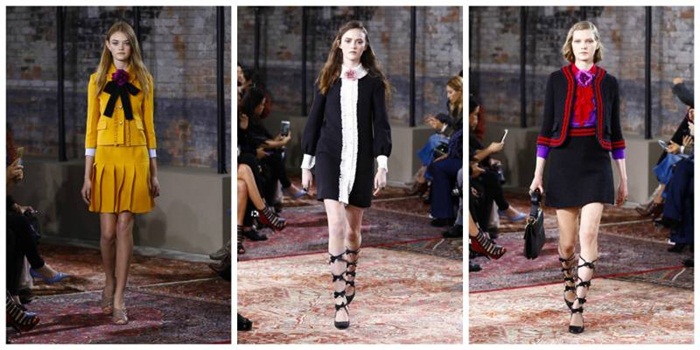 A very feminine, delicate and youthful collection, plus romantic, with flowers and ruffles.
So, did you like Gucci's new approach?
Photos courtesy Vogue.co.uk
SHOP GUCCI: