Waterproof mascaras – swim with confidence!
For the ones who are going to spend summer on beaches or swimming pools, makeup may be a concern – foundations don't match with the word water. Powder definitely not, but at least you can wear mascaras that will keep you stylish and beautiful and won't let you down when you go for a dive – they are waterproof! So let's see the ones that you can wear, with splurge & save prices, so that no one will be without a waterproof mascara on vacations. Choose your favorite!
From left to right:
* Maybelline Volume Express The Colossal Washable Mascara – people say that this mascara do make your lashes colossal, with its collagen-infused formula and will stay put not matter what you do!
* Lancome Definicils Waterproof High Definition Mascara – I have worn Definicils and I can say it's good. I wear contact lenses and if I had to name ONE excellent waterproof mascara, any Lancome one would be my choice. Actually I wear Hypnose Drama for years and although it's not sold as waterproof, it is, in my opinion!
* Maybelline Great Lash Waterproof Mascara –  reviews say it doesn't clump and therefore, it's a favorite among makeup artists!
More waterproof mascaras to help you through summer (or in case you wear contact lenses, recommended!)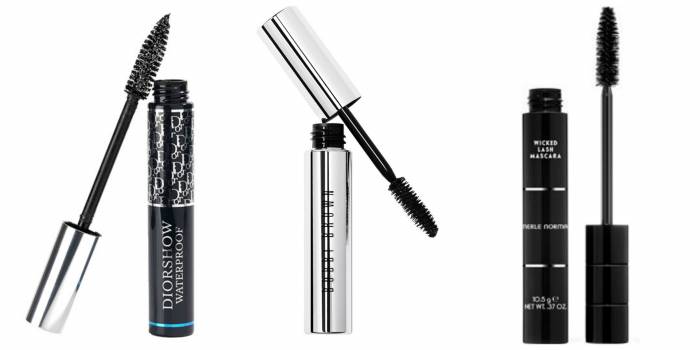 * Dior Diorshow Waterproof Mascara – Dior is one of my favorite brands and it accomplishes what it promises. They take care of the health of skin and lashes, and you can trust it.
* Bobbi Brown No Smudge Mascara – Promises to give full lashes and it stays put through showers and swimming! Bobbi Brown is an excellent brand, worried about delivering quality products.
* Merle Norman Lash Lift Waterproof Mascara – It promises not to clump up and to stay put all the day through.
So, do you have any experience with waterproof mascaras? We would love to know about that!
Photos courtesy of Elle, Pinterest and Nordstrom
SHOP THE POST: