Meet the blogger | Fashion Addict

Even though Olympia is very young, she is the kind of girl that has a very good sense of style. She is always updated when it comes to fashion and she is never going to follow any trend blindly but she will "wear" it in her own way. Her personal style has many rock elements but there are some romantic, too. Learn more about her, through today's interview and don't forget to check out her blog, Fashion Addict.
1) Stylishly Beautiful Team (from now on SBT): Tell us a few things about yourself.
My name is Olympia Pipelia and I'm 22 years old. I'm an English Language and Literature student in Aristotle University of Thessaloniki. My greatest love is fashion which emerges through my personal style blog, Fashion Addict. I also love traveling to unexpected destinations and listening to rock music.
2) SBT: How did you decide to create your blog?
It was totally spontaneous. The idea was born during my first year at the university because I was looking for an original and creative occupation for my free time. Fashion Addict was very different from today's look, as it has evolved a lot since then.

3) SBT: Describe your style with three words.
Even though I don't like putting labels and restrictions on my style, I would say that it's mainly casual-chic with rock and bohemian details.

4) SBT: Which are the 5 key pieces, in your opinion, everyone should have in their closet?
Undoubtedly, a pair of jeans that flatter their body type, white and black T-shirts in a simple line, a pair of converse all star sneakers, a demin jacket and the classic (little or not) black dress.

5) SBT: What do you love the most, your shoes or your clothes?
Without a second thought, I choose my clothes. No matter how many of them you buy, they're never going to be enough!
6)SBT: What trends do you believe are going to be very popular this summer?
Personally, I like airy and carefree dresses, decollete tops and accessories with fringes. I'm so excited about the boho style of this season.
7) SBT: What is blogging for you?
Blogging is my style's online depiction and my life's, too. It's a way of expression, projection and externalization of myself that became necessary in my everyday routine. In the beginning, it was just a hobby but now it's an important piece of myself.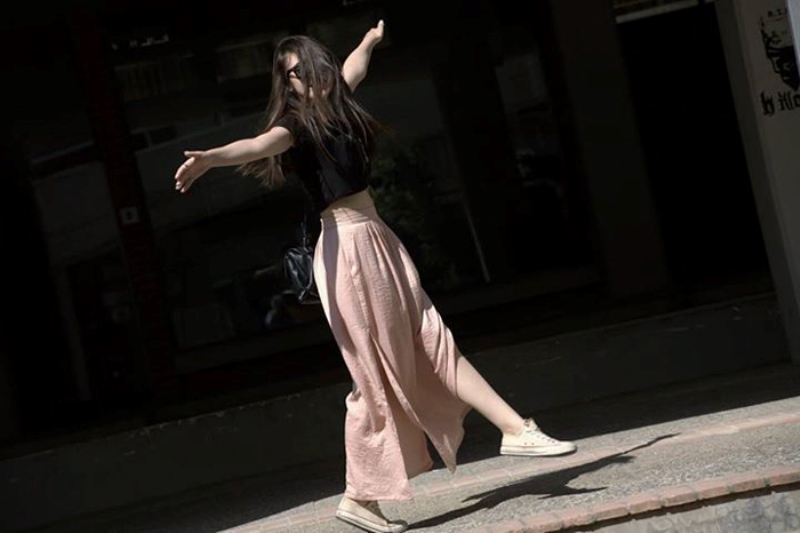 8) SBT: What would you say is the best and the worst part of blogging?
I believe the interesting part is when you discover new aspects of yourself and over the time you get evolved and more mature. In the contrary, the hard part is spending a lot of time on social media, which I find so time-consuming and I'm trying to avoid it.
9) SBT: Are there, in your personal opinion, any prospects for blogging to become a full time job in Greece?
In my personal opinion, there aren't so many prospects in Greece for blogging to become a full time job, for many reasons. On the other hand, blogging's power is growing very quickly and so does its influence. It's difficult to come to a conclusion.  I just hope for the best!!

10) SBT: What are your future plans/dreams?
Regardless of Fashion Addict's evolution, I would like to study something related to fashion design and styling. I also want to live in different places all over the world which is going to come (partially) true through my summer travel to Warsaw to work as a volunteer.
Follow Olympia: