Meet the blogger | Stars and Stellars

Stella was one of the first bloggers I met. She is a sweet and friendly person. Like the great beauty blogger she is, she has tried and has her own opinion for both high-end and affordable products. In her blog,
Stars and Stellars
she is writing reviews for all the products that she has tried, she informs you about new releases and she suggests her own favorites. We hope you like her interview as mush as we did!!
1) Stylishly Beautiful Team (from now on SBT): Tell us a few things about yourself.
Hello! My name is Stella and I'm writing on Stars and Stellars blog. I'm an economist, a beauty junkie and passionate about make-up.
2) SBT: How did you decide to create your own blog?
I always loved beauty products and every time I found something that I really liked I wanted to suggest it to my friend, too. So, when I discovered beauty blogging's world, I thought it would be so natural for me to be a part of it.
3) SBT: Which is the beauty product you cannot live without?
Mascara, concealer and eye cream.

4) SBT: What do you like to emphasize on, in your make-up look, your eyes or your lips?
I like to emphasize on my eyes' make-up, but in my everyday make-up look I prefer bright lipsticks.
5) SBT: What's in your bag?
I always take with me my lipstick before I go out, a powder, some oil-control blotting papers and a water spay in the summer months!
6) SBT: What is your night beauty routine?
After I take my make-up off (usually with the help of an oil product), I wash my face and I use the Clarisonic. The double cleansing has become an integral part of my life because it's very essential, especially in summer. After that, I use a serum for my eyes and face and I complete my routine either with a night mask or just my face creams.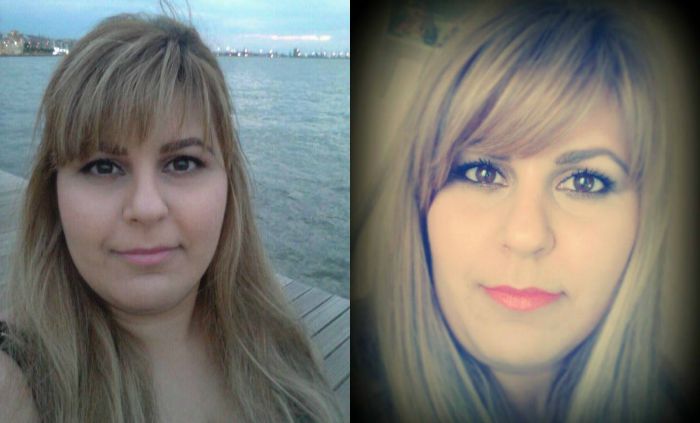 7) SBT: Who are your favorites beauty bloggers/Youtubers;
I will choose some foreign girls because I love watching make-up tutorials, but unfortunately most of the Greek Youtubers don't show that kind of videos often. My favorites are Nikkie Tutorials, Nicole Guerriero and Makeup by Camilla and I never missed any of their videos!!
8) SBT: What would you say is the best and the worst part of blogging?
The good side of blogging is that I have met a lot of people who have the same passion about beauty as me and some of them are now good friends of mine. Moreover, you have the opportunity to exchange opinions about a product and learn new information for some other like if it's good or not.
On the contrary, I can't stand all the bad feedback that some girls receive from their readers – mainly on Youtube – even though I didn't have any of this in my personal blog. Personally, if I don't like something, I'm not going to watch it, nor will I leave a mean comment. I don't even understand why some people do that.

9) SBT: What are your future plans/dreams?
I will start filming my own videos for Youtube soon. I also hope I will start studying for a Master's degree.
10) SBT: Our final question is: Tell us a few things we may not know about you.
From when I was a little girl, I wanted to be a make-up artist and this dream will possibly come true in the near future!!
You can find Stella on: