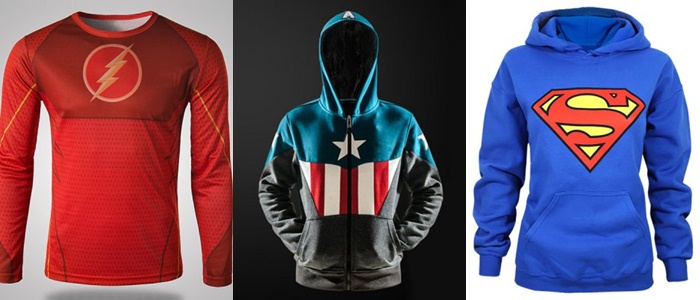 This article is dedicated to the men of our lives; either they are our brothers, our friends, our cousins, boyfriends or husbands. All men hide a little geek in them, and that's absolutely fine with us. And that's why today we are going to talk about geeky clothing for men. I'm sure you all already know the site GearBest, which is really well-known for selling tech gadgets, and things like this (they actually sell a whole lot of things, in many categories, from electronics and sports equipment, to automobile's and motorcycle's accessories). But how many of you knew that they also sell apparel, both for men and for women? And that's where we come in, because today we're introducing to you this part of the well-known e-shop.

So GearBest also stocks apparel, and sells them in factory prices. It also offers free shipping and dispatch of your order in 3-5 business days. Great, right? Apart from the geeky clothing though, you can also find men's blazers, hoodies and sweatshirts, shirts & T-shirts, sweaters & cardigans, pants & shorts. So if you're not into superhero clothing, or printed hoodies and sweatshirts, you can totally find something for you too.

For the sake of today's post though, we searched and found our favorite geeky items of clothing. Apart from superhero hoodies & sweatshirts, as stated above, you can find gorgeous printed sweatshirts, like this 3D Zipper Street Scenery one, with long sleeves, which is my absolute favorite. But you can also find short sleeved shirts in similar prints. If you're into old-school gaming and shows, there are also some inspired by Pokemon, Assassin's Creed & Gameboy, and of course the all-time-classic ones like The Flash, Ironman, Captain America and Superman shirts, that would make the characters of The Big Bang Theory proud.

So what are you waiting for? Come check out the amazing offers of GearBest, and let us know which one you're going to pick.