Apivita Aqua Vita BB Cream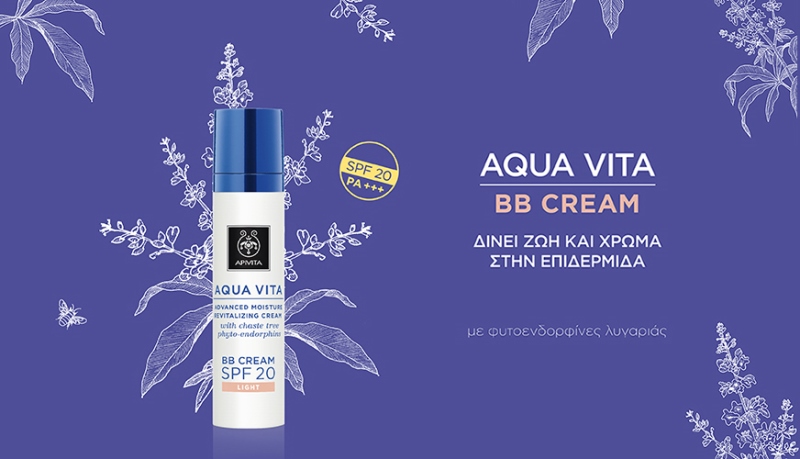 Apivita is launching for a first time the Aqua Vita Advanced Moisture Revitalizing Cream – BB Cream SPF20. It promises 5 unique actions, intensive 24h hydration, revitalization, protection from premature aging, light uniform coverage and bright natural look and protection from harmful sun radiation thanks to SPF20 / UVA PA+++ with natural filters. Apivita always has products which are dermatologically tested with 98% natural ingredients and without parabens, silicones, paraffins etc. By launching its own BB Cream – in two shades, light and medium- the company wants to provide its own ally for our skin that promises to give life and color. In purpose to achieve that, Apivita needed the following ingredients:
Chaste Tree:

It is

rich in

Phyto-Endorphins and when you

apply it topically, it

moisturizes and

soothes

the skin.

Patented Propolis Extraction.

This is an

innovative

method of extraction

and

encapsulation

of flavonoids

and

polyphenols

of propolis

.

As a

final product

,it has an extract

with strong

antioxidant properties

that increase

the vitality of cells

.
Greek Mountain Tea Infusion.  In several product compositions, Apivita replaces water with the infusion of Greek mountain tea, of Sideritis Syriaca type. Being a rich source of antioxidants, Greek mountain tea empowers the products with flavonoids, protects from free radicals and offers anti-aging action.
100% Organic oil Geranium. This oil is great for

both the skin

and the

mood.

It is suitable for

sensitive skins, it

has

healing properties

, controls oiliness

and 

balances the

skin.

As for the

mood, you feel revitalization

and euphoria.
In other words, Apivita Aqua Vita BB Cream offers everything that any other BB cream provides plus some more. We can't wait to try it out, what about you??
SHOP APIVITA AQUA VITA: