Thierry Mugler Alien perfume and body lotion review
Today we have a review about a duo of perfume and body lotion – Alien, by Thierry Mugler. It's a bit polemic – some will say "too strong", some will say "amazing". Well, of course people's opinions differ, so let's read the review 🙂 The perfume: once you spray it, it feels fresh and fruity, but as it dries it turns to be more floral and musky. It is a unique fragrance – well, every fragrance is unique, but this one won't remind you of anything else!  It lasts a decent period of time, for me. The notes are jasmine as front and center but then amber comes to warm it up. It smells, how can I say, mystical, magical… fairy like… The bottle is dark purple, which conveys a "dark" kind of feeling when you think of it… but in a good way, if I am explaining myself correctly! It is neither too sweet, not too warm; for me, a perfect combination.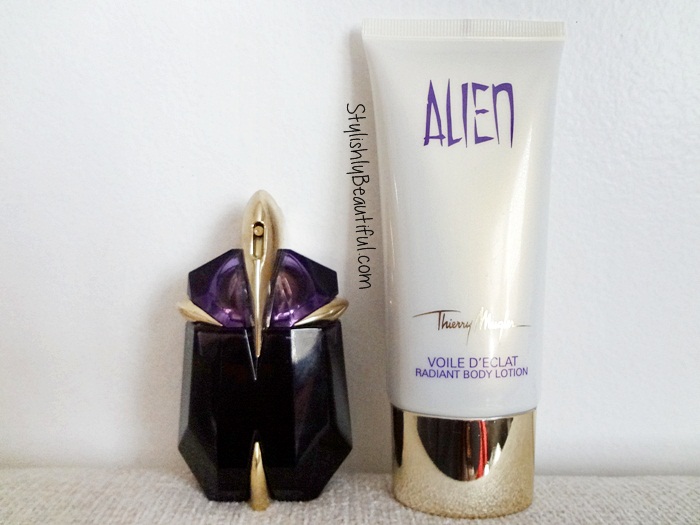 Of course perfumes are a personal issue – body chemistry plays a strong role in matters like taste, of course, and staying power.
If you prefer something that hydrates your skin and leaves it scented, then the Alien Radiant Body Lotion is for you. It has the same properties as the perfume above described, but it moisturizes your skin, leaving it very silky (really, more than any other lotion I have had before) and scented – in a nice, feminine and warm way. At first you will think "too strong!", but give it around 5 minutes and it turns to be amazing!
Products displayed here are my own – Photo © StylishlyBeautiful.com by Denise S.
SHOP THE POST: