Benefit Realness of Concealness Mini "fake-it" Kit Review
I like Benefit products. Cute packaging, practical products, really working, good quality. So when I saw this Realness of Concealness Mini "fake-it" Kit I was sold – so sweet, lovely, cute, practical with 5 products, I really wanted it!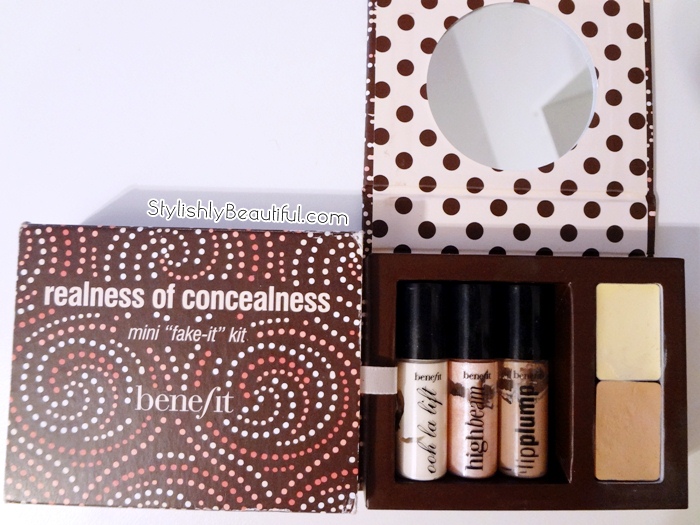 The palette has 5 products, as mentioned above, in tiny portions, to be easy and practical to carry with you. They are:
– Boi-ing: Strength concealer
– High Beam: Luminescent complexion enhancer
– Lemon Aid: Color correcting eyelid primer
– Lip Plump: Primer for fuller lips
– Ooh La Lift: under eye de-puffer
So, my opinions: The concealer is so thick that in fact it shows more of what you want to conceal, it means, the under eye circles will get a thick layer, even if you try to apply a thin one; it's really cakey. It is difficult to spread and actually, depending on your skin tone, it is too dark. For me, I felt like a panda bear 🙂 It's bad that it comes with just one color option. Too dark for me, but anyway, too thick and not easily spread, so it's a no-no in my opinion.
The Lemon Aid eyelid primer is also not so easy to spread and is also a bit thick, though it is a good primer. So, a small effort to guarantee long lasting eye shadows. That one is good.
The Lip Plumper is no plumper at all. BUT it is great as a lip primer. It will help lipsticks last longer.
I liked the High beam. I had purchased Highbeam before, so having it in a smaller size seemed good. It gives you some glow, which is nice for summer or a special occasion. But, again, there's a con. It's creamy, so either you wear it with a liquid foundation or alone, but the moment you try to set the makeup with powder, the effect is gone. If not, the product is good, shows well on your face.
The under eye de-puffer did nothing. But I have to be fair, I don't feel the need such a product yet, so maybe because of that I saw no difference.
In fact, it's pretty much like any palette we buy, that comes with many products and we end up using half of them, which is normal.
Would I repurchase it again? NO.
Do you wear Benefit products? Which ones do you prefer?
Products displayed here are my own – 
Photo © StylishlyBeautiful.com by Denise S.
SHOP THE POST:
>