Jo Malone Christmas sets 2014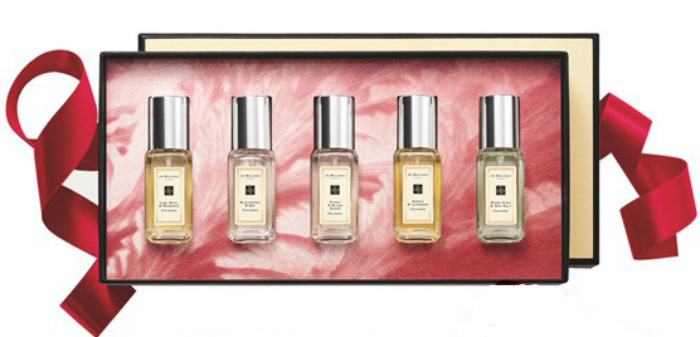 This Christmas, Jo Malone will make our days more beautiful. Her mini cologne sets are great choices for meaningful gifts to our best friend/mother/sister and if you are a boy, you should definitely consider to check them out if you want to charm your girlfriend. There are two sets with colognes, one with palm floral scents and the other one with intense perfumes. The Peony & Blush Suede Collection contains a body wash, a body cream and a cologne with notes like peony, red apple, jasmine, rose and blush suede notes.
The Jo Malone Cologne Collection includes:
Lime Basil and Mandarin: fresh limes and zesty mandarin undercut by peppery basil and aromatic white thyme.
Blackberry and Bay: deep blackberry juice, just-gathered bay and brambly woods.
Amber and Lavender: a spicy warm scent of petite grain, French lavender and amber.
Peony and Blush Suede: a charming mix of peonies, red apple, jasmine, rose and gilliflower mingled with sensual blush suede.
Wood Sage and Sea Salt:  a unique combination of wood with sea sage.
The Jo Malone Cologne Intense Collection includes:

Tuberose Angelica: the tuberose is touched with the green spiciness of angelica and warmed by amber wood.
Velvet Rose and Oud: a mix of dark damask rose wrapped with smoky oud wood and spiked with clove.
Saffron: a spicy blend of golden saffron with pink pepper and incense.
Dark Amber and Ginger Lily: amber and black orchid enriched with black cardamom, ginger and water lily.
Oud and Bergamot: a mysterious mix of bergamot, cedarwood and oud