Meet the Youtuber | Sonia Th.

Sonia is one of the sweetest & kindest persons I've ever met. I've had the pleasure of meeting her in person, about 1,5 year ago, and since then, we've come really close and become friends. 🙂 She started her Youtube channel about 10 months ago, and she has already won many people over, and gained an audience for herself. She's really talented in the art of makeup, and she absolutely loves it. She likes teaching us how to achieve her gorgeous makeup looks through her frequent video tutorials. If you're also a makeup lover, or a beauty lover in general, you absolutely have to follow her! So let's get to know her better through the interview she gave us.

1) Stylishly Beautiful Team (from now on SBT): Tell us a few things about yourself.
My name is Sonia, I'm 22 years old, and a Taurus, which means that I love food, and I cook very often. The only dessert I'm good at making is cheesecake, and it's usually gone in 3 days. I love makeup a lot, and I enjoy spending time getting ready, with a cup of coffee or a coca cola on my hand. I usually start with another makeup look in mind but I end up looking completely different. When I'm not playing with my makeup, I play with my cat.
2) SBT: How did you decide to create your Youtube channel?
There's a specific makeup look I like doing, and I could be wearing it all the time. But I thought I should start using all of my cosmetics, and see how much I can "change" my look with every makeup I try on. At first, I was making step-by-step photo collages & videos on Instagram, but they were only a few seconds long, and I couldn't exactly show the whole process like I'd like to. So I thought I'd make a longer video and upload it on Youtube (my first wasn't a very good one, I could barely speak).
3) SBT: Where did your love for makeup came from?
Even though I used to do my makeup from a younger age (really, it was terrible!), it wasn't something that I was finding impressive, till I saw some Youtube videos with girls who didn't have brows, but they looked like they did, after using makeup to draw them. I was amazed, and showed it to my friends… After school was over, I had a lot of free time, so I tried experimenting on me. Every day, I would become better and better at something, like my eyeliner line, and I got excited. Every day, my love for makeup was becoming bigger and bigger.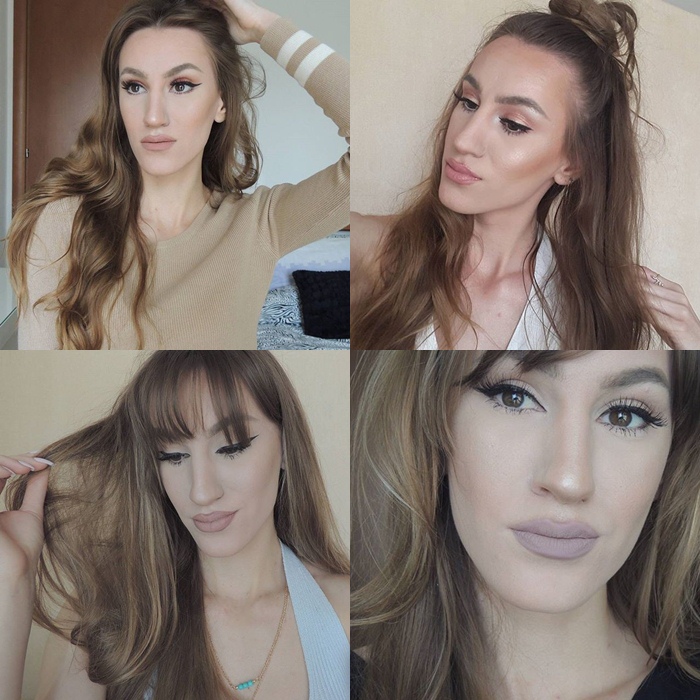 4) SBT: Even though you haven't taken any makeup courses, you create some amazing makeup looks. Have you thought about going to a makeup school one day to get a degree? Would you like to be a professional makeup artist in the future?
First of all thank you for your compliment. haha I haven't thought about doing makeup at a professional level, but I would definitely like to go to a school and get the necessary skills, if I was going to do that. On the other hand, I think that what I like the most is teaching myself everything; there's a magic in not knowing or not being able to predict something, but once it appears to you, it's a lesson that stays with you. I get excited by this, and it's something I like to share.
5) SBT: Which 5 pieces (beauty or/and fashion) would you say that your signature style consists of?
I don't know if these characterize me, but they're definitely the ones I love. Cat eyeliner, matte nude lips, jeans (ripped or not), a black top and hoop earrings. I just described a whole outfit!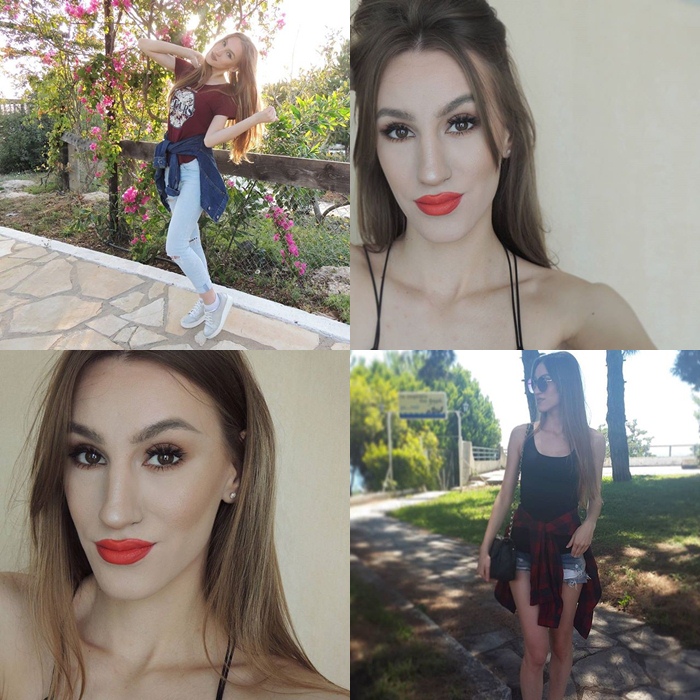 6) SBT: What's Youtube for you, and what do you like the most in it?
It's a medium through which everyone can express his thoughts & his interests, and the best part is that you get to meet people to share these things with. That's the best part. Because in the end, we are not that different as persons. I believe that what everyone really wants is to communicate!
7) SBT: Have you encountered any difficulties since the day you started your Youtube channel?
I can't say that I've encountered a big difficulty, but there are some things that occasionally happen, but they're all part of it. Ever day, I learn something new, and so my job gets easier.
8) SBT: One of Youtube's biggest downsides is that you get a lot of exposure, and sometimes, that's not something good. Do negative comments get to you, and how do you deal with them personally?
I haven't received any actual negative comments. I did have 2-3 weird ones in the past, but that's what they were; weird, not negative. But I've received criticism and opposite opinions through comments, but in a very polite way. I deeply appreciate both the good and the bad opinions/criticism, because I find it really important that someone has dedicated some of his time to tell me what he thinks. It's the best thing he could give me! I'm generally trying to focus on the positive, because I truly believe that how you're feeling inside and how you deal with things, is a personal choice.
9) SBT: Have you ever thought of widening your channel's subject? If yes, is there any category you'd like to add to it?
I personally love doing makeup. But I like to ask the people who are watching me to tell me their opinion on that matter, and leave me their suggestions, and what they'd like to see from me. Sometimes they want to see more relaxed and funny things from me, like tags… It's like a short break from makeup, and I really enjoy filming those too!
10) SBT: Which are your future plans/dreams, when it comes to your channel and your personal life?
I want to make my dreams come true. To get more involved with makeup, to create something related to it, to be near my family and friends, and to share with them nice moments (I think that these are my wildest dreams! haha).
Find Sonia: