Favorite Beauty products of 2014 | SB Team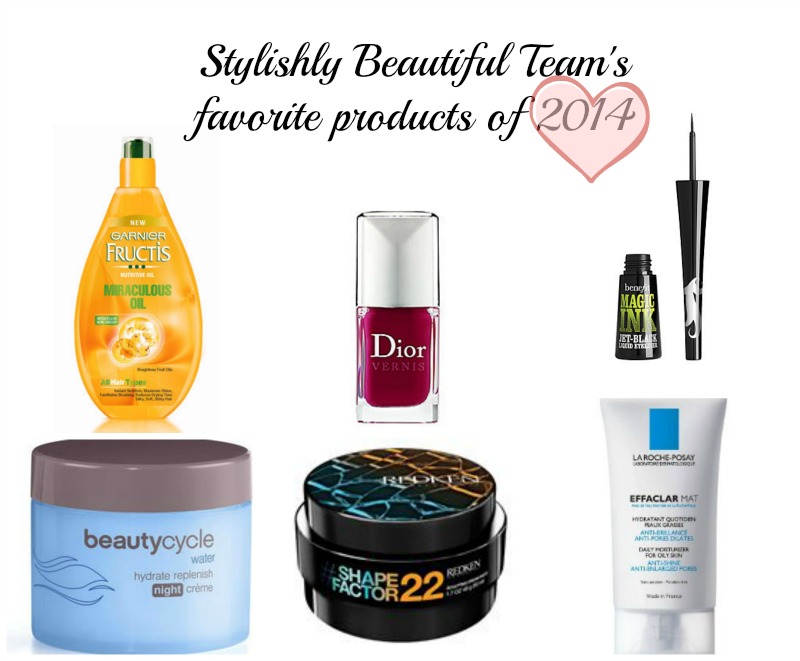 A very important part of Stylishly Beautiful is its beauty area. That's why we couldn't leave you without presenting you our team's favorite products of 2014. We used them way too much and without a doubt we recommend them. Let's see everyone's choice and we are waiting for your suggestions!!
(From top to bottom reverse clockwise):
Anatoli: The hair product which I loved the most in 2014 was the miraculous oil by Fructis! It hydrates my dry hair without causing greasiness. It leaves them soft, easy to brush and at the same time with a lovely scent.
Markella: My favorite beauty product of 2014, is Beauty Cycle's night cream from the water line of Amway. It's ideal for my sensitive/dry skin, it's deeply moisturizing, without being oily and leaves the skin feeling velvety.
George: The Redken Shape Factor 22 gives matte finish to your hair and at the same time it gives it volume. With a professional result which lasts for up to 24h, it's undoubtedly my favorite beauty product of 2014 and maybe of 2015, too.
Kleoniki: One of my favorite products which I loved in 2014 is the La Roche Posay Effaclar Mat day cream. It provides all the hydration that my oily skin needs and at the same time reduces its oiliness. It lasts for hours so I'm not worried about my make-up anymore.
Maria: Without any doubt my favorite product of 2014 was the black ink eyeliner by benefit cosmetics. From the day I first used it, I threw away every other eyeliner I owned and the black ink became something irreplaceable in my life. It has a really practical tip, it has an intense result and it surely is the most steady eyeliner I have ever used in my life. It really is value for money, it costs 18E and will last around 5 to 6 months (it depends on the use ) but benefit offers -20% discount once a month so you can buy it for less. Try it and you will love it forever!
Denise: The Dior nail polishes were one of my best finds in 2014. I have a problem with nail polishes: they get chipped in 1 or 2 days, no matter which brand I use. The Dior nail polish was a good try; it's shiny, has beautiful color choices and lasts from 4 to 5 days for me. Imagine how much it can last for people who don't have problems with polishes like I do!