Meet the designer | Handmade Art by Vasilis Michopoulos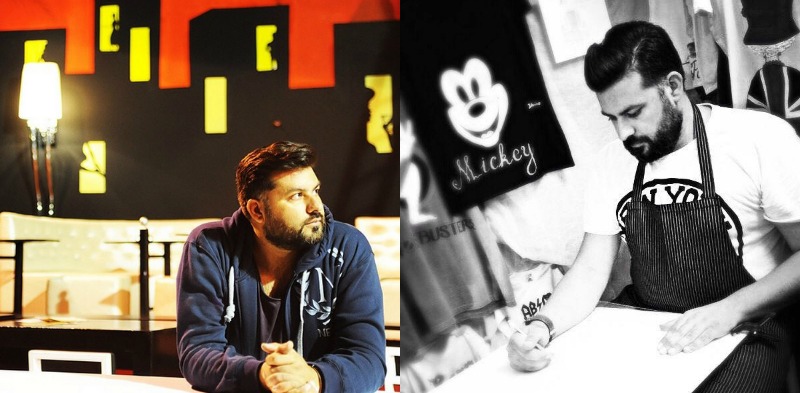 I first discovered Vasilis on Instagram. Since I first talked to him, I got the impression that he is a friendly and hearty man. He succeeded in turning his passion into a profession which is really remarkable. I absolutely adore his handmade t-shirts with amazing and detailed designs. I'm glad to be able to present you his creations and you are going to learn more about the brand HANDMADE ART by VASILIS MICHOPOULOS below!!
1) Stylishly Beautiful Team (from now on SBT): Tell us a few things about yourself.

My name is Vasilis Michopoulos but some people call me vmixo, too. I had an artistic tendency from a young age and that's how I created the HANDMADE ART by VASILIS MICHOPOULOS brand. I really love this occupation!
2) SBT:

What initiated

the

creation

of

Handmade Art by Vasilis Michopoulos?
My pursuit for something unique and the joy of creating were the reasons for beginning HANDMADE ART by VASILIS MICHOPOULOS for those who perceive fashion as art.

3) SBT: What kind of materials do you draw on?

I draw on everything! Plastic, wood, glass, walls, canvas, Panama hats, shoes, clothes and mainly on my favorite t-shirts. Anything you can imagine!
4) SBT: Tell us a few things about the creation process of a t-shirt design.

The consumer first chooses a t-shirt and then the design. He/She also chooses the t-shirt's color because the design depends on that. After that, I only need my imagination and my personal style. The process is completed with a nice wrapping!

5) SBT: How long does it take you to create a t-shirt design?

The time that I need to complete a design on a t-shirt and for it to be ready to use, depends on the design's difficulty. I usually need 5-6 hours for a simple one.
6) SBT: Do you always work on demand?

Yes of course. I create all the t-shirt on demand.
7) SBT: From all your designs, which is your favorite one?

This is a quite difficult question. I honesty can't pick something specific.

8) SBT: What are your future plans/dreams?
With slow and steady actions I would like to turn ΗANDMADE ART by VASILIS MICHOPOULOS into a strong brand name.
9) SBT: Last but not least, what is your motto in life?

Whatever you do, do it with love! It's the only way to succeed!
You'll find ΗANDMADE ART by VASILIS MICHOPOULOS on Facebook and on Instagram
All photos courtesy of Vasilis Michopoulos