Caudalie Vinoperfect Day Perfecting Fluid review
Caudalie products are of very high quality and give consistency, flawless results. This Caudalie Vinoperfect Day Perfecting Fluid felt very smooth, refreshing, but the fluid doesn't seem to be effective enough. It has a low SPF – well, better low than nothing at all. But this fluid does not do as much as Vinoperfect serum does (already reviewed here). And the reason I bought it was because the serum was nice, so I thought the fluid would be, too.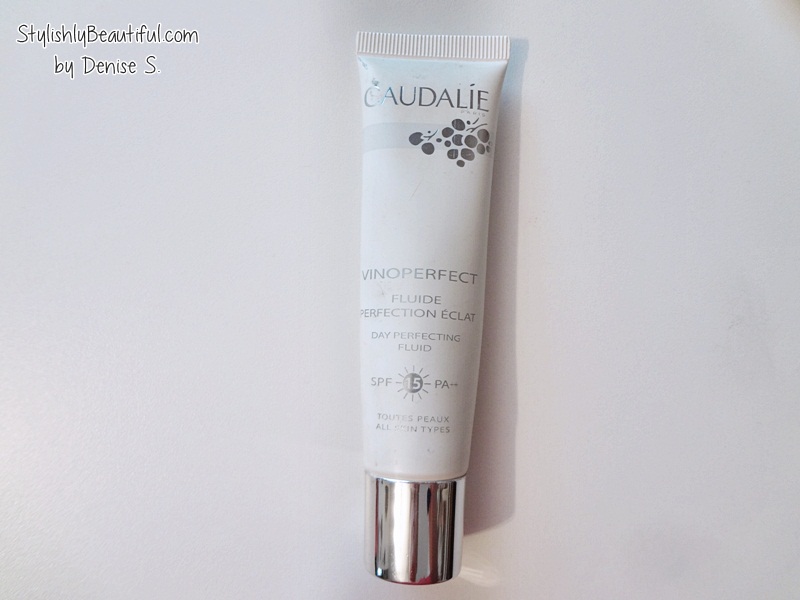 It does hydrate the skin, makes it feel soft, yes. But It works as a base under foundation – but just for that, to find a way to use it, it's quite pricey.
The tube is tiny, I think it can end pretty soon. Not worth, considering the price. And although it has some color, nothing will be seen on your skin. 
It gives no coverage. The product is very very thin and sheer. The name of the product is far from what it promises. Nothing is "perfect" at all, a
s a perfecting fluid would do.
As I said, it works as a makeup base, but as I don't like to wear heavy makeup, that's not the point for me.
A positive point is that it smells nice and it's not greasy. It gets absorbed quickly. But it's not good enough to justify buying it.
Would not repurchase it again 🙂
Product displayed here is my own
Photo © StylishlyBeautiful.com by Denise S.
SHOP THE POST: