Dior makeup palette review
Dior is one of my favorite brands for makeup, perfumes and other stuff; besides, I love palettes and when I saw this Dior makeup palette I was very excited. Having some items individually was enough for me to buy the palette (knowing the quality before), gathering many items that are practical to carry in a bag when travelling, etc. It comes with eye shadows, powder, lip glosses, applicators, sponge and even a small mascara (not shown in the picture – it's small and I think I lost it 🙂 So, is it good, being Dior a top quality brand?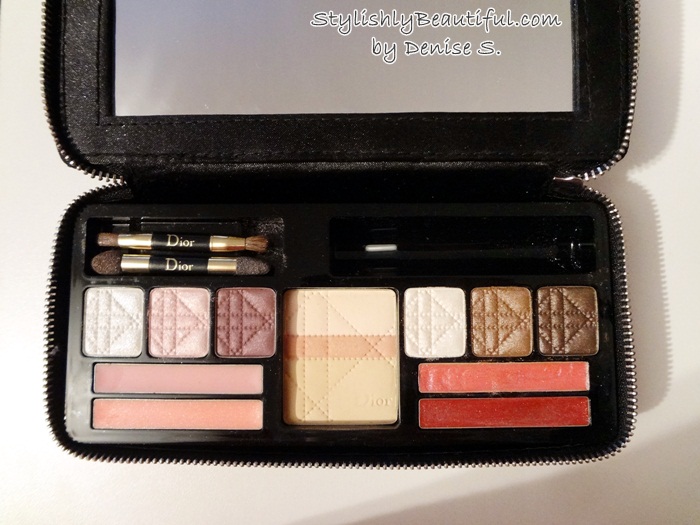 Not completely bad (3 items), but not excellent. As you can see in the picture, it comes with 6 colors of eye shadows, more to the nude color scheme, not vibrant, but I like that. The plastic protection over them says 1) Base, 2) Color, 3) Shadow, meaning that the lighter ones serve as a primer, then the middle ones as the color base and finally, to create a smokey eye makeup you use the darker colors. Would be lovely, if they were well pigmented. First of all, what they say is a base is no base at all, it doesn't work. So I used a primer before, then the colors could show a bit more. If you apply the eye shadows without a proper primer, you won't see any color. The darker colors show more, but that's all. And finally, lasting power for what doesn't really show is very bad. After one hour it seems you didn't apply anything at all. As I said,  only if you apply a primer first, you will have a chance to see the eye shadows a bit.
The middle part shows powder, blush and illuminizer, and the protection lid says Sculpt, Enlighten, Unify. But they are so small that you can't really apply them properly. The illuminizer seems to be good, but as I said, you don't have much chance to apply it properly, so, a no go. The mascara is Okish, not bad, but not excellent. In such a way that I don't even know where it is among my things – I didn't really want to wear it.
And finally, the 4 lip glosses. Very sheer, nearly transparent. The lighter ones won't leave any color to your lips. The darker ones just a bit, a tiny bit, and after some minutes they will vanish. And the worst, they left my lips badly chapped!
Do I recommend this palette? Or any Dior palette that shows these colors and powder sizes? A big NO. Dior releases palettes from time to time, so the quality will very likely be the same. Go for more vibrant colors, if you buy a Dior palette. The nude effect ones are worth nothing. And for the price it was? Definitely not anymore.
 Product displayed here is my own – Photo © StylishlyBeautiful.com by Denise S.
SHOP DIOR MAKEUP PALETTES: