Giuseppe Zanotti x Jennifer Lopez collaboration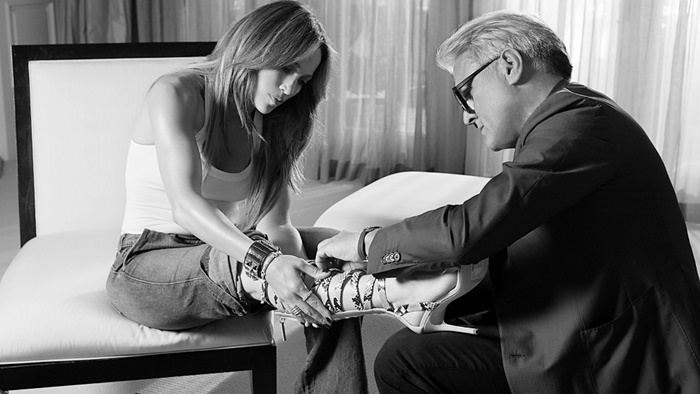 Giuseppe for Jennifer Lopez is the new collaboration of Giuseppe Zanotti with Jennifer Lopez! The Italian luxury shoe designer teamed up with JLo to create a new and exclusive capsule footwear and accessories collection. The #GiuseppexJennifer will be launched January and I'm sure that it will be amazing.
Zanotti said: "I've always been inspired by Jennifer and love the way she looks in my shoes – it was a natural evolution to collaborate together". "The collection, like Jennifer, is sensual, sophisticated, modern but also playful with a bit of edge."
The collection will consist of crystal-encrusted open-toe booties, embellished wedge sneakers and strappy gladiators in snakeskin-print leather. About the colours now, the collection features dreamy pastels, cool grays and warm beiges. It also contains two styles of leather handbags with artful detailing that complete the collection.
"I think it goes without saying that like every other girl, I love a killer pair of shoes" says Jennifer Lopez. "Whether I'm walking the red carpet or dressed casually, the right shoes complete my outfit to make me feel beautiful, sexy, and fearless. The collection Giuseppe and I have created is everything you would expect from the both of us – bad ass high heels with shapes that are fierce and of course, have some sparkle!"
I can't wait to see the results in January! I bet it will be fantastic!
Photos courtesy of Giuseppe Zanotti