Elegant bridesmaid dresses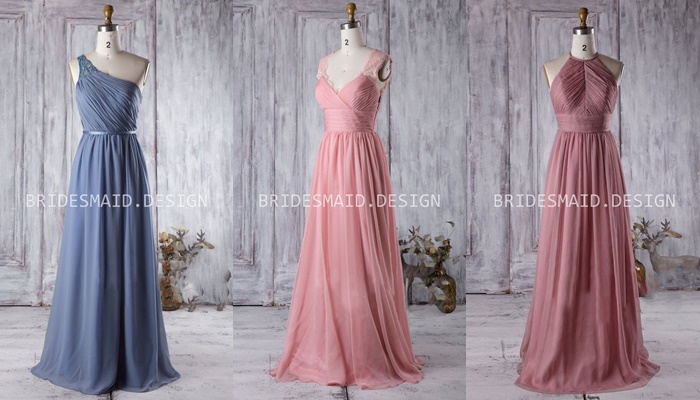 We are here once again to suggest a new site in which you can find elegant bridesmaid dresses.  The Bridesmaid.design has a great variety of bridesmaid dresses, party dresses and a few special designed wedding dresses. It also offers the choice of a custom made dress so it will fit you perfectly.  They strongly believe that  online shopping requires flexibility and support; therefore they are pleased to provide a modification to your dress for the first time for free in case you are not 100% satisfied with the final result.
Starting with the most classic choice, a long dress is undeniably chic and lovely. It also looks more formal and aristocratic. Not to mention that it makes you look taller no matter what kind of shoes you wear. However, our picks are from the vintage party bridesmaid dresses collection as they are absolutely dreamy. Most of them are in light pastel shades made from fabrics like lace and chiffon. There are so many designs to choose from, like the pink one with the deep "V" neck or the greyish blue one with the one shoulder from the above photo.
I personally love cute short dresses and I believe it's about time for them to return as a trend. Choosing a dress as long as your knees' height is chic, feminine, modern and totally appropriate for this kind of events.  Plus, you have the opportunity to show your beautiful pair of high heels. On this site, you will mostly find designs "A" in line which flatter every body type and make you look slimmer. For a romantic look, you can choose a dress with lace like the pink one on the picture above. The light yellow chiffon strapless dress in the middle is undoubtedly unique. The yellow one (first from left) might look staid but it is so girly and proper for spring and summer. This particular one is ideal for a young girl who wants to be dress up formal but not like a mature woman.