Valentine's day | Gift guide for your girlfriend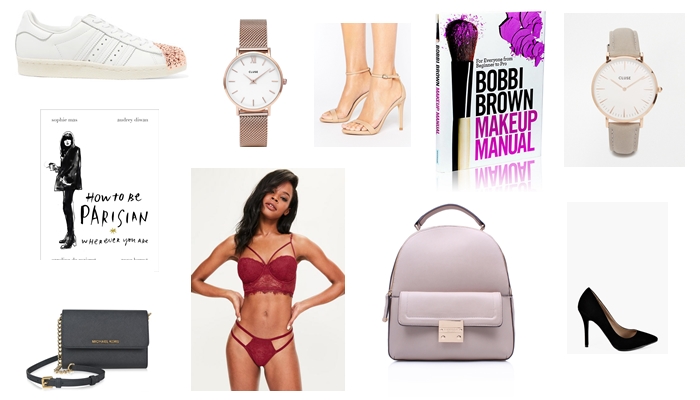 You may believe that you have a lot of days to decide which is the best gift for your girlfriend but guess what! You don't! Valentine's day it's just around the corner and if you want to impress her then it's time for you to find the perfect gift. We have some suggestions that can inspire you to find the right present.
The first things that come in mind when you hear Valentine's day is red and jewelry. A beautiful set of lingerie in the shades of red is a really good present. If you don't want though to buy something so obvious then you can surprise her with a beautiful watch. Choose a classic one that it will be timeless. For me it's the perfect gift. She can wear it all day long and she will remembers you every time she sees her wrist. A beautiful watch can beat a jewelry. We tend to like jewelries but we don't wear them as often. Of course it depends on what your girlfriend prefers.
Another good choice is a pair of shoes but it can be risky if she is between sizes. A pair of sneakers that she can wear everyday or a pair of black pumps or nude sandals are the safest choices to impress her! If she already have enough pair of shoes (which is impossible for a woman!) then you can buy her a bag. A backpack or a cross body bag is a great idea.
If she has everything she needs from the above and she is a bookworm then you can buy her a book. See what she loves (fashion, beauty, cooking, or anything else) and make the right choice.
You can also buy her some chocolates or make them by yourself (believe me she will love it!!). As for flowers don't stick to the obvious red roses. Of course they are beautiful but pick another flower. She will appreciate the gesture that you didn't pick what everybody picks!
Last but not least surprise her with a trip. It doesn't have to be an expensive one but a little getaway from your everyday life! Whatever you will choose try to make it a little bit more personal. She will appreciate that you thought a bit more and didn't pick the obvious choices.