8 new fragrances for Fall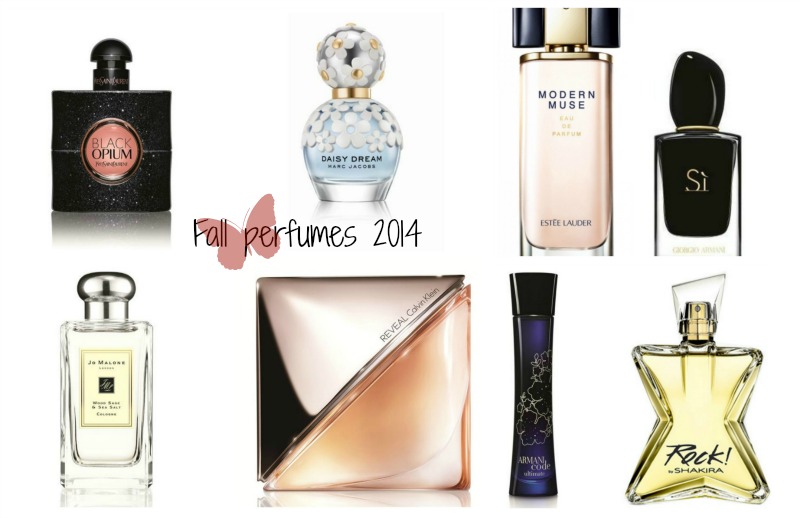 We are in the middle of Autumn and many new fragrances are here, waiting to be discovered. If you love sweet perfumes, Rock by Shakira, with lemon, orange and passion fruits is the one for you. Modern Muse by Estee Lauder is a unique and feminine fragrance. Its essence will fascinate you because of its classy aroma with citrus and smooth aroma of jasmine and lily. Si Eau de Perfume Intense from Giorgio Armani is seductive and deeply mysterious, thanks to the addictive vanilla, dark woods and amber resins. The Black Opium by Yves Saint Laurent addresses the woman who feels sensual, irresistible, impulsive, rock but still chic; a woman who seeks adventure. You will love the freshness of daisies with their floral and romantic scent, while wearing the Marc Jacobs Daisy Dream. You have probably read a lot of positive reviews about the Jo Malone Wood Sage & Sea Salt perfume. Some girls compare its aroma with a walk on the beach on an autumn day. I believe the combination of the sea scents with wood and the drops of sage and musk can give you this impression. The Armani Code Ultimate Woman by Giorgio Armani is an intense one with notes of bitter orange, ginger and pear. Its incomparable composition is completed by the Sambac jasmine, the Arabica coffee and benzoin. The Calvin Klein house is back with a new sexy perfume, Reveal, which is going to steal every man's heart. When you smell it, you immediately distinguish the scents of salt, pink and black pepper, iris, sandalwood, cashmere and musk between its ingredients.
They are all exceptional but they still have one thing in common: glamorous packages which make you feel that you spoil yourself a little every time you use them.