It's really not that new, but Jeremy Scott has launched his first fragrance for Moschino back in November – the playful perfume Toy. The bottle is a teddy bear, it's sweet! True, to spray the perfume, you have to take the head of the bear off, which is a bit creepy… It's unisex and humorous, like the appointed creative director of Moschino says: "one thing I have and most of other designers don't… is humor".
Maybe it's nice to see other playful perfume bottles as well, to give us a smile?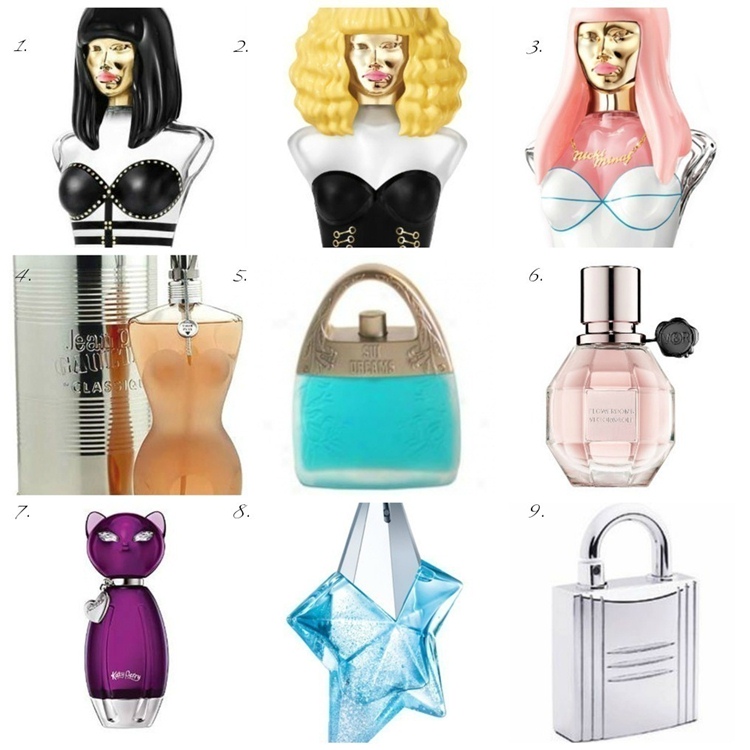 First, the quirky singer Nicki Minaj's series of perfumes: 1) Onika, 2) Minajesty Exotic and 3) Pink Friday. Then 4) Classique, by Jean Paul Gaultier, and, as the name says, it's a classic now. #5 is Sui Dream by Anna Sui, a sweet handbag and  #6 is the now also classic Flower Bomb, by Viktor & Rolf, that shows the bottle as a grenade. #7 is Purr, by Kate Perry, and she also has a pink version, called Meow – sweet cats 🙂  #8 is Angel Aqua Chic by Thierry Mugler, a star! And finally #9 is Hermes Kelly Caleche Pure perfume in silver – there's also a version in gold.
Which one is your favorite?
Photos courtesy of Fragrantica, Sephora, Amazon and Dailymail