Chanel lipsticks | Review
It's well known by now that I love Chanel products – the quality really suits my sensitive skin. Not only my face, but even my lips are sensitive, so I really need a product that protects them. And Chanel does so – with my latest tries, two lipsticks that accomplish what they promise.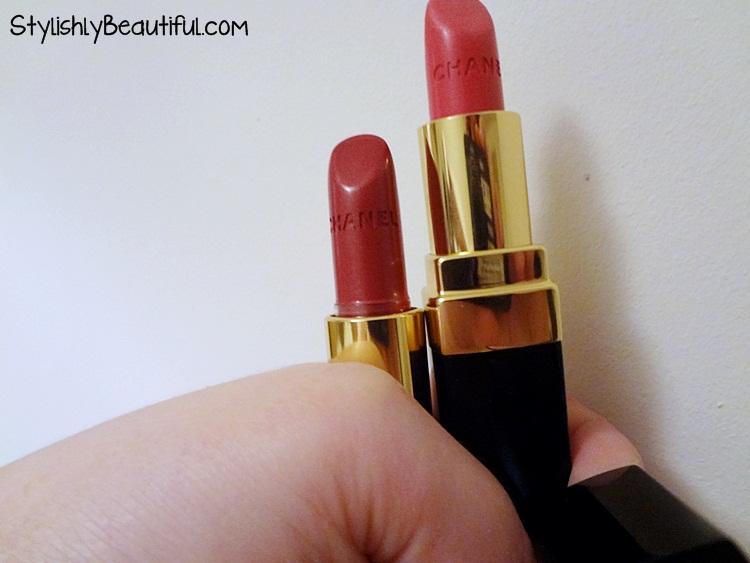 The first one is Chanel Allure Lipstick number 67 –  Excessive. It has a "retractile" lid, it means, you have to press the bottom a bit and it is liberated – then pull the lipstick from it. Not bad, but I confess I prefer the other way – just pull the lid and the lipstick is "there" 🙂 Anyway, I wanted a red lipstick, but with a bit of copper color and this one is perfect. Very smooth, hydrating, stays for hours, even if you eat something. It is more comfortable and moisturizing than the next lipstick 🙂
Chanel Rouge Coco Hydrating Crème lipstick, number 16-Taffetas Rose is also fabulous. I like pink/fuchsia lipsticks, so I chose this one. It doesn't dry your lips, though the previous one is better on this point, as I said. This one has a matte finish and stays even longer than the Allure one. I'd say the first lasts for 5 hours, while this one for 8 or more. Genius!
So, ready for a Chanel lip color? They are beautiful and feel so good on the lips!
Products displayed here are my own
Photo © StylishlyBeautiful.com by Denise S.
Take a look at the giveaway that just started on our site, to win Chanel and Lancome beauty products.