5+1 Face masks for any occasion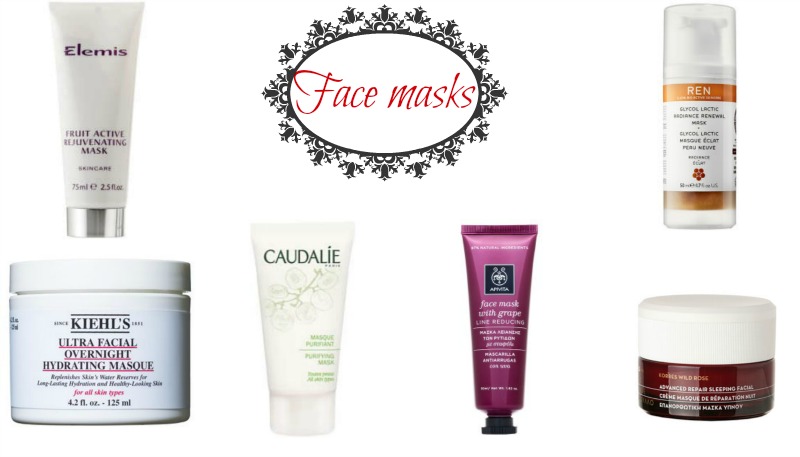 Ladies, add one more resolution to your list this year; use face masks frequently. We have to use masks once or twice a week to take care of our skin. Some of you will say that it is time consuming and has a high cost but when you think of all the benefits, you may change your mind. I searched and found some notable products which deserve a try.
The Elemis Fruit Active Rejuvenating Mask is enriched with active extracts of strawberry and kiwi fruit, to restore the glow to dulled complexions. It also cleans well and provides revitalization to dry skin.
Kiehl's Ultra Facial Overnight Hydrating Masque helps your skin moisture in deep and keeps it hydrated, smooth and soft for hours.
The Caudalie Purifying Mask is an anti-blemish product. It purifies pores and the skin in general and leaves it without oiliness. It specializes on oily skins but it won't dry yours, even if it's a sensitive one.
The Apivita Line Reducing Face mask with grape reduces wrinkles and expression lines, improves skin's elasticity and maintains the skin hydrated.
Korres Wild Rose Advanced Repair Sleeping Facial. It's a Holy Grail product in the beauty community as it offers intense hydration. It's enriched with Wild Rose oil, vitamin C and hyaluronic acid for a softer and smoother skin by morning.
The Ren Glycolastic Radiance Renewal mask helps reduce the appearance of fine lines and wrinkles by removing dead skin cells so the complexion will renew itself.  It also combats blackheads and blemishes.