BareMinerals Purifying Facial Cleanser Review
I will be honest, as usual, about certain "rituals", like removing makeup. I love soap and water – especially with a Greek soap that I bought in April (4 bars, to last) 🙂 But I don't have the soaps all the time with me, where I may go, so once I was at a friend's house and she asked me whether I had a makeup remover to lend. I didn't, but then knowing that she likes removers, I bought the bareMinerals Facial Cleanser as a present to her. Fact is that I liked it so much, that the next week I bought one for me, as well!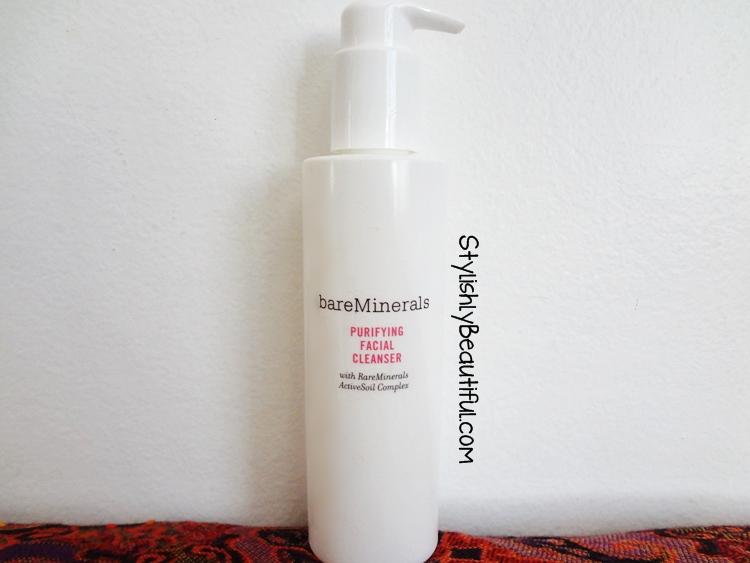 The bottle says "with rare minerals active soil complex". Again being honest, for me it may sound like just beautiful words to make it sound nicer, but whether it's true or not, the product doesn't need this "boost". It is brilliant! Extremely smooth, not watery, not too thick – just the perfect consistence. You get a small portion and apply to your face – and I suppose it's great for sensitive skins, cause I "tolerated" it pretty well – and massage your face, either with your fingers or a cotton ball. It does remove all your makeup gently, leaving your skin so soft, as if you had a facial treatment! For me, it kind of acted like a moisturizer, leaving skin soft and silky. You can have this procedure and stop there, or, if you want, rinse your skin after that. I tried both ways and both worked. And the bottle comes with a pump system, so easy to get the product. Really, I recommend this excellent makeup remover!
Product displayed here is my own – Photo © StylishlyBeautiful.com by Denise S.
SHOP THE POST: