Skinceuticals Serum 10 AOX with Ferulic review
People talk a lot about the CE Ferulix, by Skinceuticals, but somehow I read a mini Skinceuticals Serum 10 AOX review in a magazine and instead of the Ferulix, I decided to try this one, because I like serums. The consistency of serums always catch me 🙂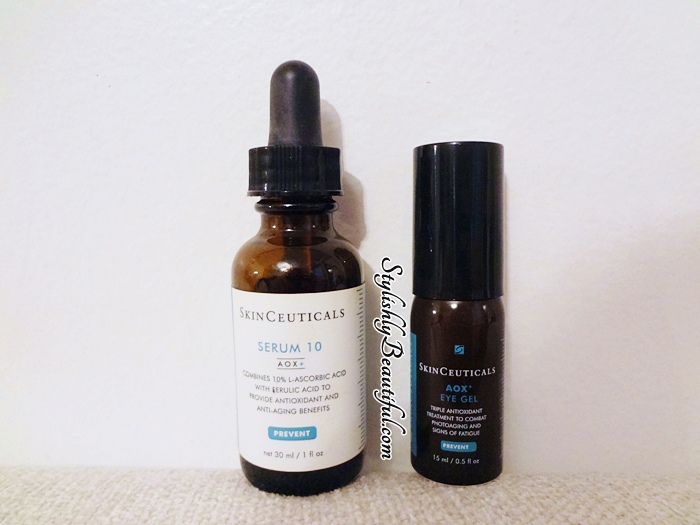 Well, what I can say… for a serum it's runny, very liquid, like water, really. They recommend using just 4-5 drops for the face, but it's so liquid that you end up not knowing how many drops you used. Just "go with the flow", use what you feel is necessary. It absorbs well on skin.  It does make skin look nicer kind of instantly, from dull to some healthy color. But then you put some makeup on and the effect disappears. It doesn't create any "film" on your skin, like other serums do. Due to the consistency of this one, I don't even think it deserves to be called a serum.
It seems that for some people it might sting,  but for me it didn't.  It doesn't cause clogged pores. Skin feels soft, but not as much as other serums, as I said. Besides, I'm always afraid that it gets oxidized and that would be bad. No scent from it, which is a sign of oxidizing, so it seems to hold well for some months. I bought together with it the product for the eyes, as well, but I didn't use it very much (honestly speaking, I don't know why I bought it. I think it was just to have the set, but I seldom use eye area products), so I can't say much about it. I decided to show it here to say that that one really shows some color after a while, so I think whether I didn't know the right color from the beginning – maybe it is that way – or it has oxidized. The smell seems OK, so I guess the color was that way, really.
My opinion: I wouldn't repurchase them again! 🙂
Products displayed here are my own – Photo © StylishlyBeautiful.com by Denise S.
SHOP THE POST: