Lancome makeup palette review
Lancome launches some lovely palettes from time to time, and the one here was bought a bit in a hurry at an airport, after an air company didn't deliver my luggage – and most of my makeup was there. I wanted something that could offer powder, concealer, highlighter, lipsticks, mascara and eye pencil – it had all. Obviously we cannot choose the exact eye shadow colors we are used to wear – some yes, but some we just don't touch, but for the moment this Lancome makeup palette offered a lot.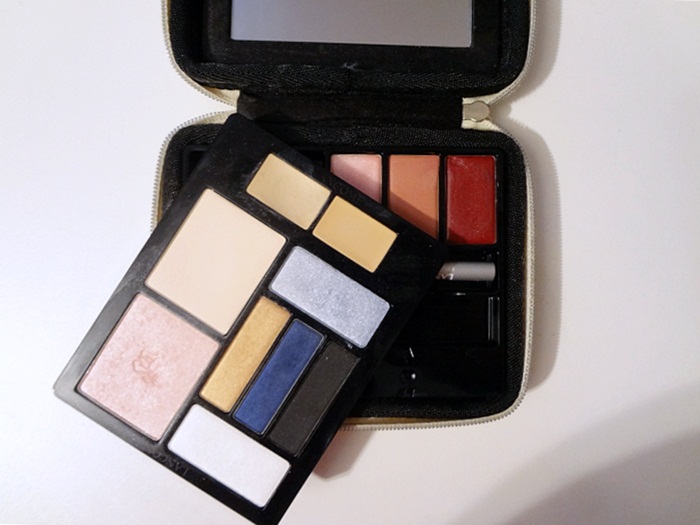 As I said, you can find Lancome palettes anytime, and I have others, not only this one. So it's Ok to review Lancome palettes (yes, in the plural) based on this one – the quality will be quite the same; after all, it's all produced by the same company.
The palette comes with some applicators, that make using it better.
Eye shadows: Gorgeous colors, for the day and evening, too. They have good pigmentation and good stayng power as well. I can recommend them, I really liked the colors offered there.
The concealers: in two tones, that unfortunately were too dark for me. One is kind of orange, so a no go. The other one I tried just once, realized that it left dark under eye circles, and ditched it. And more: it's very cakey, not good for a concealer, that should look natural.
The mascara is good (not shown now, but it came with the palette); Lancome produces some of the best mascaras in the world. Well, good, yes, but not as good as the Lancome Hypnose one. But OK, I could wear it well.
The Lancome eye pencils are also good, considering pigmentation, but because the one that came with the palette was really small it was a bit difficult to work with it, and the fine tip scratched my skin while trying to spread some color. I didn't wear it more than twice. It also had another eye pencil – an off white one, for the eye water line. Consider it the same as the black eye pencil, too small and hurt me a bit.
Glosses/lipsticks: it's a no for me. It seems it has one lipstick, the darker color, but it's so sheer that it acts like a gloss – the pigmentation is not good and the staying power also not. Then the glosses are the same – they show some color, but they are nearly transparent and won't last. Nevertheless, they can be handy just for a moment, when you need some makeup for some minutes – yes, more than some minutes you won't have the gloss on your lips.
Now, powder. Nice, but not outstanding. The cheeks' highlighter is very good and so this, plus the eye shadows and mascara, save the palette. I would say, buy a similar palette if you want a good highlighter, excellent eye shadows and a reasonable mascara. In this way, I recommend it.
SHOP LANCOME PALETTES: