Meet the blogger | Beauty Maniac
You may not believe it but Thessaloniki has a very strong blogging community with great bloggers. One of them is Lila, a sweet and friendly girl who can i

mpress you with the hard-work she does on her blog

. She writes a variety of articles but mostly related to beauty. So, meet Lila and make sure to visit her blog, too.
1) Stylishly Beautiful Team (from now on SBT): Tell us a few things about yourself.
My name is Lila Amanatidou and I'm 21 years old. I'm studying at the Faculty of Forestry and Natural Environment at the Aristotle University of Thessaloniki. I'm addicted to cosmetics and I started sharing this addiction on Beauty Maniac, three years ago.
2) SBT: How did you decide to create your own blog?
Since I was a kid, I loved writing everything on a diary. When I was 18 years old, as I was reading beauty blogs, I decided to start my own. Moreover, I'm fascinated by beauty and there isn't any greater place than a blog to share and read opinions about fashion and beauty.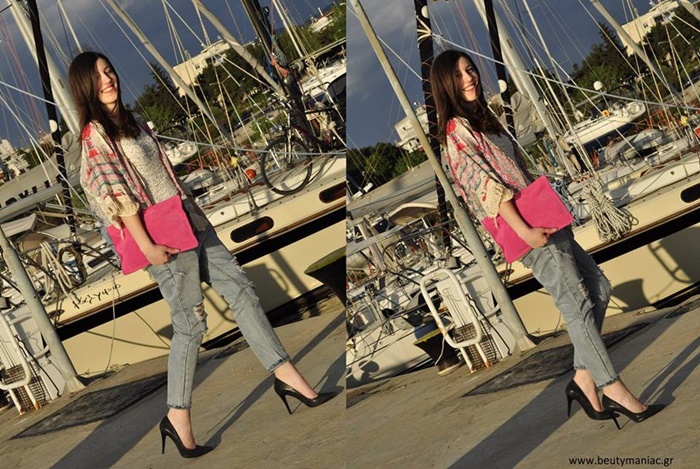 3) SBT: Which is the beauty product you cannot live without?
I would choose a concealer because it offers a bright and relaxed look. As for a skin care product, I love face masks.
4) SBT: What is your night beauty routine?
After I take my make-up off, I clean my face with a cleansing foam or gel so I get rid of my make-up's remains and pollutants. Moreover, I spray rosewater on my face before I apply my favorite face cream. It goes without saying that before I sleep, I brush my teeth and apply a lip balm on my lips. The night routine, and the morning one too, only take 5 minutes and in long-term it offers us a healthy and perfect skin.
5) SBT: What do you like to emphasize on, in your make-up look, your eyes or your lips?
I prefer to emphasize on my eyes' make-up with matte eyeshadows in earthly shades on a daily basis and a good application of mascara. I avoid using eyeliner and eye pencils for a lighter morning result. For my lips, I prefer a lip balm with color or a moisturizing lipstick.
6) SBT: Which are the 5 key pieces, in your opinion, everyone should have in their closet?
I really like classic, comfortable and timeless pieces. I believe every girl should have a pair of skinny jeans, a black leather jacket, a white shirt, a white t-shirt and a black pencil skirt in her closet.
7) SBT: What's blogging for you and what do you like the most in it?

I like the freedom of speech. In blogging there isn't any censorship so everybody can express his/her opinion. As for me, it's a way of direct communication, updating and joy. When you do something you love, it's only natural to be happy about it.

8) SBT: Do you think that blogging (fashion or/and beauty) could be someone's full-time job in Greece, and is it something you personally aspire to?

I believe this would hardly be feasible in Greece (especially in the current situation) but I don't think that it's impossible for the future. Surely, I would like to be a full-time blogger because I really like it so I hope that it will be possible at some point.
9) SBT: What are your future plans/dreams?
I would like to continue blogging, get my degree and attend classes related to make-up. I would love to work in the beauty industry professionally.
10) SBT: Our final question is: Tell us a few things we may not know about you.
My real name is Aglaia but everybody calls me Lila since I was a little girl. Now, I'm used to be called with both of them.
You can find Lila on: