Urban Decay x Kristen Leanne Collection for Spring 2018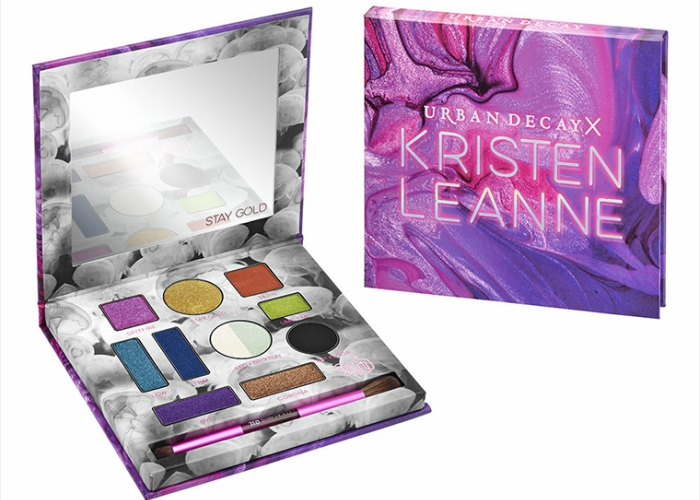 Kristen Leanne is a cruelty-free beauty influencer known for bright colors, glitter, beautiful tattoos and her full-of-life personality. Her videos range from everyday wearable looks to over-the-top glam tutorials, utilizing her artistry and creativity every step of the way. Urban Decay tapped into Kristen's amazing makeup talent and discovered what inspires her. Then they bounced color ideas back and forth until they created her perfect makeup collection. The limited-edition Kaleidoscope Dream Eyeshadow Palette features 11 vibrant shades, including a uniquely shifty yellow, vivid brights, and an out-of-this-world split-pan duotone. Each shade is named after something close to Kristen's heart, like LCW (a nod to KL's fave song, "Long Cool Woman in a Black Dress," by the Hollies), and 13th Floor (one of her favorite Twilight Zone episodes). Every shade has a velvety texture, rich color, serious staying power and blendability.
Urban Decay x Kristen Leanne KALEIDOSCOPE DREAM EYESHADOW PALET

TE 

$39.00
SPITFIRE

 Bright pink satin with purple shift

STAY GOLD

 Metallic yellow-gold

TAJIN

 Orange matte

LCW

 Metallic teal blue

TRM

 Metallic deep navy blue

LEO + BRAXTON

 Holographic green pearl shift / holographic red pearl shift

LIME TIME

 Metallic neon green

13TH FLOOR

 Black matte

DYE

 Violet satin

CORONA

 Metallic soft bronze with gold shimmer
Urban Decay x Kristen Leanne DAYDREAM EYESHADOW PALETTE, $26.00
LUCY

 Ivory matte

DAYDREAM

 Soft nude matte

12/12

 Soft peach matte

SUBSCRIBE

 Warm nude matte

EIGHT

 Rich warm brown matte
Urban Decay x Kristen Leanne BEAUTY BEAM HIGHLIGHTING PALETTE, $34.00 
Kristen digs highlighter almost as much as she digs Mexican food. After bonding over our shared love of tacos, we got down to work on her ultimate highlighter palette, Beauty Beam Highlight Palette. Wear these golden shades individually, or cocktail two or three for a custom glowy effect. Stay gold, Foxes.
TRIO

 Soft rose-gold pearl, white-gold pearl, warm golden pearl
Urban Decay x Kristen Leanne VICE LIPSTICK, $17.00 
CLOUD9

 Magenta (Comfort Matte)

SPELLBOUND

 Deep plum (Mega Matte)

BUN BUN

 Nude (Comfort Matte)
Urban Decay x Kristen Leanne EYESHADOW, $19.00 – URBAN DECAY EXCLUSIVE
S.G.H.

 Mustard yellow matte with floating tonal pearl
Urban Decay x Kristen Leanne VICE LIQUID LIPSTICK, $18.00 – URBAN DECAY EXCLUSIVE
Urban Decay x Kristen Leanne VICE LIQUID LIPSTICK DUO, $29.00 – ULTA EXCLUSIVE
FORGIVE

 Pink-mauve nude

FORGET

 Light coral nude