5+1 essential nail polish colors
It doesn't matter if you prefer to have your manicure done professionally at a salon or if you do it yourself at home; every woman should own at least 5 basic nail polish colors, which are suitable for every occasion.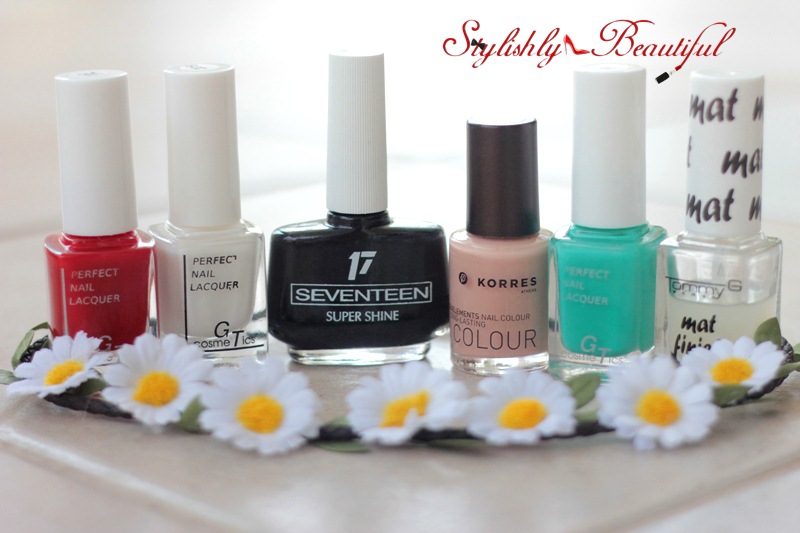 1) The classic red: Red is always a great choice. It can look good on either casual or formal occasions.
2) The beige/nude one: It can be worn even at strict work environments, and make your nails look clean and polished.
3) The black one: Black is also a classic choice for some people. Whether you love it or hate it is an elegant choice, especially on short nails.
4) The perfect white: White has been so in fashion over the past couple of years, and it's also a very elegant choice. Minimal, and perfect for every occasion. Good for summer or winter.
5) The colorful one: My choice for the sake of this post is of course a turquoise/mint green color that I happen to wear all the time. But it's up to you, which color you'd choose. Just make sure you have one bright-colored one in your collection.
+1) The mat finish one: A clear mat finish nail polish shouldn't be absent from your collection. It can instantly make your 5 nail colors into 10 ones. Because once you put it on top of your nail polish, the color is completely transformed. I'm totally obsessed with it! Trust me, you'll love it!
Nail polishes from my own collection
Floral headband from Patricia the Style Store
Photo © StylishlyBeautiful.com by Markella A.