Beauty products to bring in the suitcases from your trips
Travelling is not only great for the soul, to see different architecture, museums, learning another language or tasting typical cuisine – it is also exploring new products that sometimes only exist in particular countries 🙂 I am sure all of us do this! What to bring back home? Brochures, memories, photos and joy, for sure, but also shoes, jewellery, clothes and makeup! Let's see some travelling picks!

The first products, from left to right, are the amazing Greek products – really recommended to all – excellent soaps to sensitive skin, made of olive oil – therefore the name Olive lavender. It's really excellent! Then after Dior the best nail polishes one can wish to wear – it takes ages to chip! The fantastic GT nail polishes by Tommy G! Not to be forgotten are the Tommy G eye shadows. Beautiful colors, well pigmented and last a lot on your lids 🙂 The great Seventeen lipsticks are also a must and Taskiris Mallas shoes, no doubt – beautiful and the most comfortable ones!  Some other items must be brought, but these ones are the top choices.
From Poland bring makeup as well. Good is the foundation in the picture, called Matching foundation, by Wibo. It is really great – light, good color with a healthy touch. The blush is equally light and natural – Lovely Snow Blusher in #1, Pink Princess.
From Brazil, there are brands like Natura, O Boticário and Contém 1g. The makeup products are incredible and the perfumes so feminine! The picture shows two versions of Coffee perfume by the second brand, Make B line blush and Linda Brazil citrus perfume. The latter brand shows a practical eye shadow (the brush is the lid of the eye shadow) and liquid eyeliner – and their primer is one of the best, well recommended!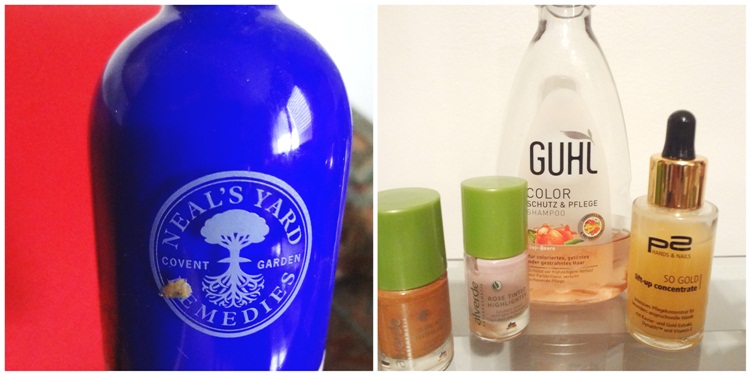 From England bring "everything" you can, but since many products are sold online, Rimmel London is a good choice and Neal's Yard Remedies from Covent Garden. The latter has natural products with so amazing quality that the whole line is recommended – but bring the beautifully scented hand cream and facial creams as well. From Germany bring the exquisite Guhl shampoos – the scent is incredible (you can see it was well used already!) and P2 products, like this hand serum. A new brand recently discovered is Alverde – with these two illuminizers, in tan and pink, as well as the best glosses with lipstick texture I have ever tried!
There are just some examples, but I would like to know what you have brought! Share with us, it's great to know novelties!
 Products displayed here are my own
Photo © StylishlyBeautiful.com by Denise S.