Tortilla pizzas | Recipe & video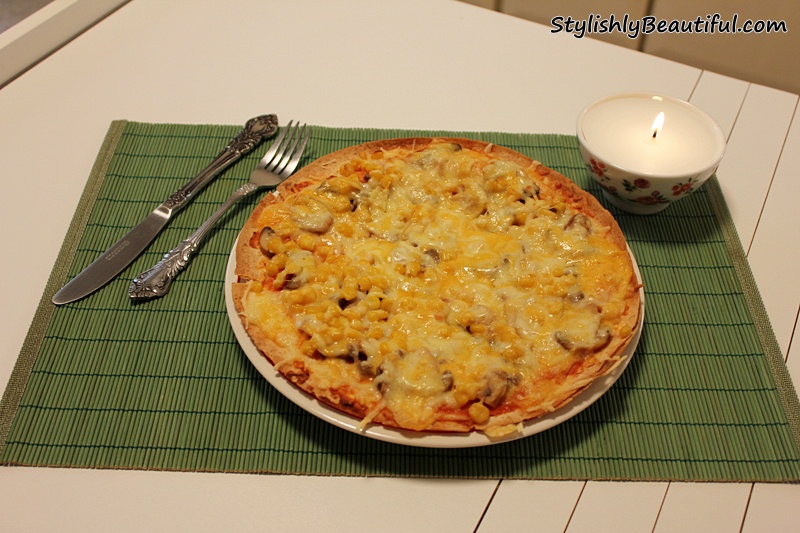 Hello Stylishly Beautiful readers! We're super excited to introduce a brand new category to the site today, which is going to be called "Food Corner" where we'll be showing you easy and quick recipes, mostly through videos we shoot for our Youtube channel. We're not experts, just gals who love tasty food, and easy-to-make recipes, so I hope you appreciate our efforts, and that you're going to like our recipes.
We're starting off with a recipe for pizzas with the base of tortillas instead of pizza dough. Why tortillas? Because you can buy them at the store (personally I always have them at home, I love cooking with them), and they're thin enough to be cooked in just a few minutes, but super tasty too.
The video is in Greek, but the main structure is easy to understand even if you don't speak the language. And I'm gonna write down the recipe (or should I say idea) here, in case you want to try it out!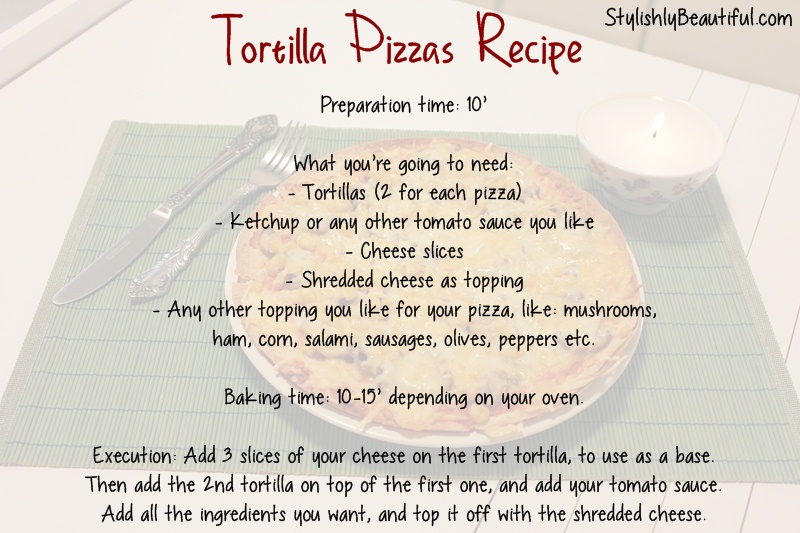 Preparation time: 10'
What you're going to need:
–          Tortillas (2 for each pizza)
–          Ketchup or any other tomato sauce you like
–          Cheese slices
–          Shredded cheese as topping
–          Any other topping you like for your pizza, like: mushrooms, ham, corn, salami, sausages, olives, peppers etc.
Baking time: 10-15' depending on your oven.
Execution: Add 3 slices of your cheese on the first tortilla, to use as a base. Then add the 2nd tortilla on top of the first one*, and add your tomato sauce. Add all the ingredients you want, and top it off with the shredded cheese.
* We use 2 tortillas to give the illusion of real pizza dough.
Bon Appétit! The easiest pizza you'll ever make!
If you happen to try our recipes, and like them, we'd be happy to see them, so send them to us, through email, Facebook message, tweet, or simply tag us on Instagram and use the #StylishlyBeautifulRecipes on your photo. And don't forget to follow us everywhere and subscribe on Youtube.