Cowshed Slender Cow Extra Firming Body Butter review
Honestly, the name of the product may put some people off – but it's meant to be funny, I suppose (or so I hope). Who wants to be called as cow? OK, at least a slender cow, not a flabby one! 🙂 This products says it is good to fight cellulitis and help to firm and tone your skin, and they say it's part of "Cowshed's 3-step program to help sculpt your body". I confess I only have this cream, not the two other steps. So let's concentrate on the Cowshed Slender Cow Extra Firming Body Butter.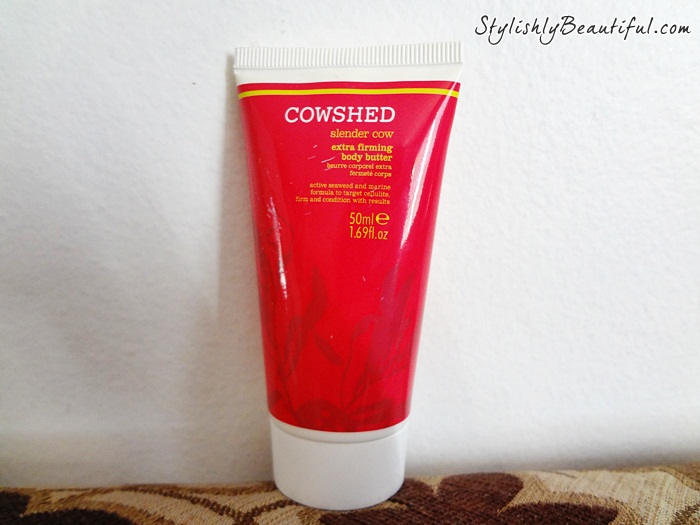 The company is known for working with natural ingredients, so this body butter has Dermochlorella, a freshwater micro algae, clinically proven to improve skin tone; Tamanu oil, Organic Coconut oil and Rosehip oil, to be applied on areas of the body, in a generous amount (as written on the product) – specifically legs, arm, hips, thighs, tum and bottom, that's what the product says. I think that the areas that they didn't suggest are chest, back, calves, neck and face, but alas, 70% of your body would be covered… Cowshed says that the product will help to detox skin and will plump it.
As I said, they recommend it  with the "3-step Slender Cow program" for 12 weeks, which means using Cowshed Slender Cow Detoxifying Scrub 2-3 times per week and the Body Sculpting Serum and Extra Firming Body Butter daily.
I have to say that I didn't use anything else, just this cream – and not for cellulitis, but as a cream, because of its scent – you may like it, it feels like cinnamon and rosemary, but I may be wrong in my description – I can only say that I loved the scent. But, to my surprise, skin does feel more hydrated and firm, and so, I would recommend this body butter! If it really fights cellulitis I can't say, but it's a good moisturizer – that's for sure. The price is reasonable, so I am recommending it. If I would repurchase it? For the scent yes, but there are so many body butters to choose, so I don't know. Cowshed, anyway, is a well known and respected brand.
Product displayed here is my own – Photo © StylishlyBeautiful.com by Denise S.
SHOP COWSHED: