Estee Lauder Double Wear VS Revlon Colorstay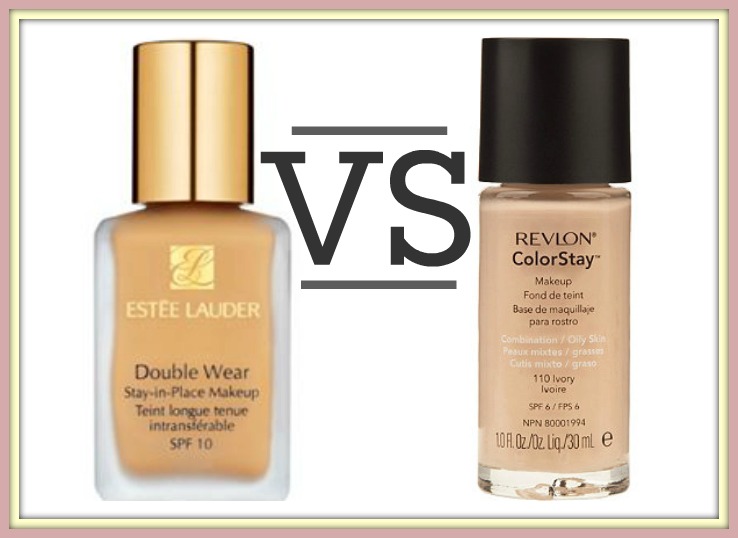 The Revlon Colorstay Foundation is rumored to be the dupe for the Estee Lauder Double Wear Foundation. Let's make the comparison! 
Price
The Double Wear costs approximately 40€ for 30ml, and Colorstay costs 15€ for the same amount.
Packaging
Both foundations come in glass bottle. In order to use the product better, you can add a pump.
Consistency
Revlon Colorstay foundation has a lightweight feel and a runny texture. When applied, the foundation goes on smoothly and does not have any sticky residue. On the other hand you'll have to buff the Double Wear Foundation, to avoid the stickiness.
Coverage 
Double Wear provides higher coverage compared to Colorstay. In the case of the Colorstay foundation, coverage is buildable. It goes on with a medium coverage, but it can be layered to achieve a higher coverage. Does not appear cakey despite the layering.
Wear time
Double Wear foundation had a longer wear time as compared to the Revlon Colorstay. After 6 hours, Revlon Colorstay foundation starts getting patchy on the T-Zone.
Use a buffing brush when applying either of these foundations for higher coverage. For a lightweight application use a damp sponge.
They are both great foundations!  Definitely recommend the Revlon Colorstay to anyone looking for a cheaper, medium-full coverage foundation as a Double Wear dupe with a little less coverage!
SHOP THE POST: