Essence Trend Edition | Kisses from Italy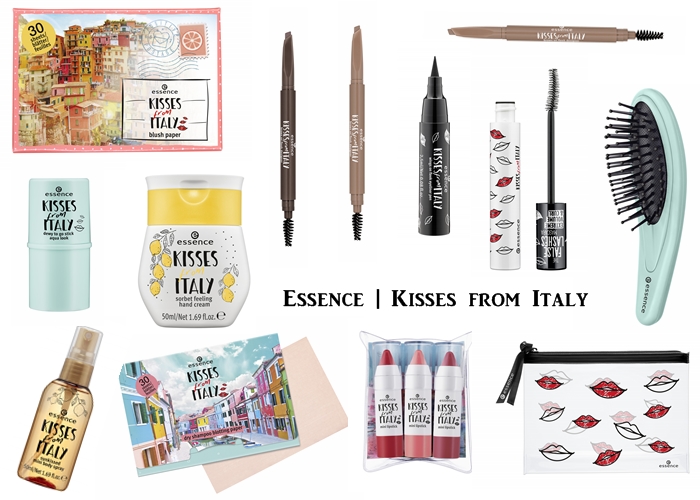 This August, with the new trend edition "kisses from Italy", Essence travels to Italy! – in the country of colorful houses, the beautiful rocky shores and the sun shining in the sea. The products of the series have fresh colors, innovative composition and the ideal size to accompany you even on your travels – as wonderful as Italy itself!
Let's look at the products in this series, in detail:
brows on fleek designer The 2 in 1 pen has two tips: one with a firm yet soft texture to emphasize and fill your eyebrows and a brush to give them shape. Perfect for natural and expressive eyebrows.
the false lashes mascara extreme volume & curl The beloved mascara from the basic essence series is now available in a collectible design. The curved fiber brush gives maximum volume and ensures beautiful, curved eyelashes with a facial eyelash effect.
mini sunkissed body spray This spray gives a light tan and a gentle shine to your skin, while offering a fresh feeling. Ideal for when you are on the go.
wings on fleek eyeliner pen The practical eyeliner pen in deep black color can be used to create distinctive or intense makeup styles.
dewy to go stick aqua look Thanks to its lightweight and refreshing texture, this practical stick will give a wonderful dewy glow to your cheeks.
blush paper This special paper gives you a fresh and shiny skin. Just put it on your cheeks. Repeat for more intense effects.
dry shampoo blotting paper The ultimate innovation: dry shampoo in paper form! Just roll the paper to the roots of your hair, comb yourself and you're ready! Ideal for all your trips.
mini lipstick kit The set includes three mini lipsticks with high coverage and semi-matte finish – all you need for when you travel. Thanks to their practical shape, in stick form, these fresh colors are easy to apply even when you are on the go.
sorbet feeling hand cream Thanks to its lightweight composition, hand cream is quickly absorbed, caresses your hands and leaves a fresh lemon scent. Convenient size to fit in each bag.
hair brush This small brush is ideal for combing and untangling your hair easily and without pain.
cosmetic bag This fashionable, transparent bag has plenty of room to store the essential beauty products that can not be missed from your hand luggage.