Meet the blogger | Just Another Vintageholic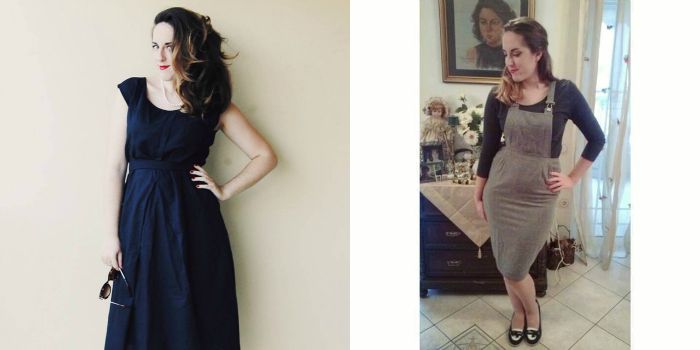 I haven't met Marianna in person (yet) but since the first time we talked online, I really liked her. She's a sweet girl who loves everything that is vintage and that's why she's one of the most lovely presences in the blogging community. In her personal blog, she harmonically combines the subjects of fashion and beauty, as she is sharing her favorite products and her outfits with her followers. We are happy to introduce you Marianna through her interview below!!
1) Stylishly Beautiful Team (from now on SBT): Tell us a few things about yourself.
Hello! My name is Marianna (Mary-Anna actually) and I'm 23 years old. I live in Athens and I'm going to have a degree in Translation & Interpretion. Apart from foreign languages, I also love blogging and for the past three years I've been writing on my personal vintage lifestyle blog, Just Another Vintageholic.
2) SBT: How did you decide to create your own blog?
I always found blogging a very interesting occupation. One afternoon when I had  a lot of free time, after my exams, I came up with the idea of starting something edifying on the Internet.  Besides, there aren't many vintage blogs in Greece.

3) SBT: What inspired the name of your blog?
Ever since I can remember myself, I loved everything that reminded of or is from an older era, so I knew from the beginning that my blog's name will have at least the world "vintage" in it. Vintageholic means addicted to vintage and it absolutely describes me as a person!
4) SBT: Which is the beauty product you cannot live without?
My red lipstick (Bobbi Brown – Old Hollywood) and my perfume (Dita Von Teese – Rouge).
5) SBT: What do you like to emphasize on, in your make-up look, your eyes or your lips?
I would love to emphasize on both of them but I love sleeping so much that there isn't any chance of waking up earlier to wear eyeliner and mascara, so I only put on my red lipstick.

6) SBT: Imagine that you are leaving for a trip tomorrow. What products are you taking with you?
A makeup powder, a blush, a mascara, an eyeliner, an eyeshadow palette with earthly shades, a red lipstick, a lip pencil, a nail polish, a perfume, a face cream and a hand cream.
7) SBT: Which are the 5 key pieces, in your opinion, everyone should have in their closet?
A monochromatic midi dress in a line that flatters your body, a well-tailored suit, a black pair of leggings, a pair of pointy flat shoes and a tote bag.

8) SBT: What is blogging for you and what do you like in it the most?
Blogging is my own way of expression and creation. It combines everything that I like: photography, writing and communication with other people – I have met so many people both from Greece and abroad and the audience that I have gained is the best part of all.
9) SBT: What are your future plans/dreams?
My dream is to design my own clothing line and to live abroad for some time, but I'm going to get my degree very soon so my direct plans are mostly about my professional career and a master's degree. Even though, I love foreign languages, I don't want to restrict myself to them. The ideal profession for me is writing about fashion and beauty. So, if I manage to become a full-time blogger, I will have succeeded. On the other hand, I'm tempted to write on a magazine in a foreign language. We'll see!
10) SBT: Our final question is: Tell us a few things we may not know about you.
– Apart from my blog, I also have a Youtube channel
– I was a columnist in some online magazines.
– When I was 16, I won the Literature Prize in a Francophonie contest.
– My astrological sign is Cancer and my ascendant is Virgo.
Oh yes, and:
-I  may look serious but I'm not!
You can find Marianna on:
Just Another Vintageholic blog