Meet the designer | My piece of chic
Alexia is the creator of My piece of Chic, and if you get to meet her, you'll realize that she's a really sweet person, with a strong appetite for creation. Everything you're going to find on her page, is made by her, and along with her amazing jewellery, you're also going to find seasonal items, such as sandals there (now that's summer). It's our pleasure to have her here today, through the interview she gave us. Meet Alexia, through the questions we asked her, and stay tuned, because from tomorrow on, you'll be able to win one of her creations through our new giveaway for Stylishly Beautiful's first birthday. Of course, don't forget to check out her Facebook page for more (link at the end of this post!).
1) SBT: Tell us a few things about you.

I'm from Thessaloniki, Greece, but for the past years, I've been living with my boyfriend in Pilio, Thessaly. My life is characterized by constant changes in the business field, something that gets balanced by the stability of my personal life. In the past I've worked as a substitute teacher, as a hotel employee (I'm actually working in a hotel right now), and at the same time I create not only jewellery but many kinds of things. I recently finished my master's degree in Organization and Management of Education and I'm planning my next steps.
2) SBT: How did you start creating your own jewellery?

I can't determine the exact time I started creating jewellery, but I always remembered myself making something. 7 years ago, I passed by a store with materials for jewellery etc. and I instantly started thinking of jewellery I could create with them. I had created a pair of earrings, and a necklace with a big gold heart. I was wearing them in my university and my schoolmates were asking me where did I get them from. After that, they started asking me if I could create some custom-made things for them.
3) SBT: How did get the idea of your brand's name? 
It's exactly what I want my jewellery to have: a piece of finesse and charm of the girl who's wearing them. To give a nice touch to her outfit, without making it look over-the-top.
4) SBT: Besides jewellery, what else do you like to create? 
For the past year, I've been working a lot on natural cosmetics. It's something that we all have to do at some point, in my opinion, and I'm happy to see it happening day by day. Besides that, I work on seasonal items, such as Easter candles, and sandals.
5) SBT: What materials do you prefer to use on your creations? 
I use various materials from time to time, such as liquid glass and clay. For the past few years, I've succumbed to the magic of the glass beads and pearls, and also to semi-precious stones.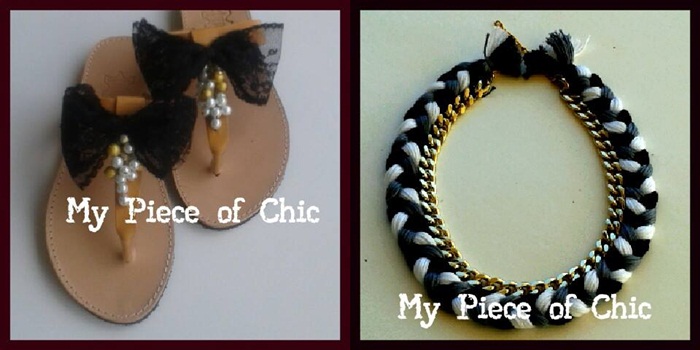 6) SBT: Are you taking the fashion trends into consideration before creating your own collections? 
I think that this is something that happens to be subconsciously. I follow fashion a lot, through magazines, blogs, Youtube, so I'm certain that I get influenced by them, without realizing it. hehe
7) SBT: Which is your source of inspiration? 
Everything! When I'm at school, sometimes I get ideas from the kids. In general, I watch people on the streets, like a girl with a really nice dress, and I imagine what jewellery would look good with her outfit.
8) SBT: Which is the biggest difficulty, you've encountered so far in your work? 
I don't think I've encountered any difficulties so far, and I generally feel that my work has been accepted, and liked by the people. However, when you display your work through the Internet, everyone can say something that will offend you, as far as work is concerned of course.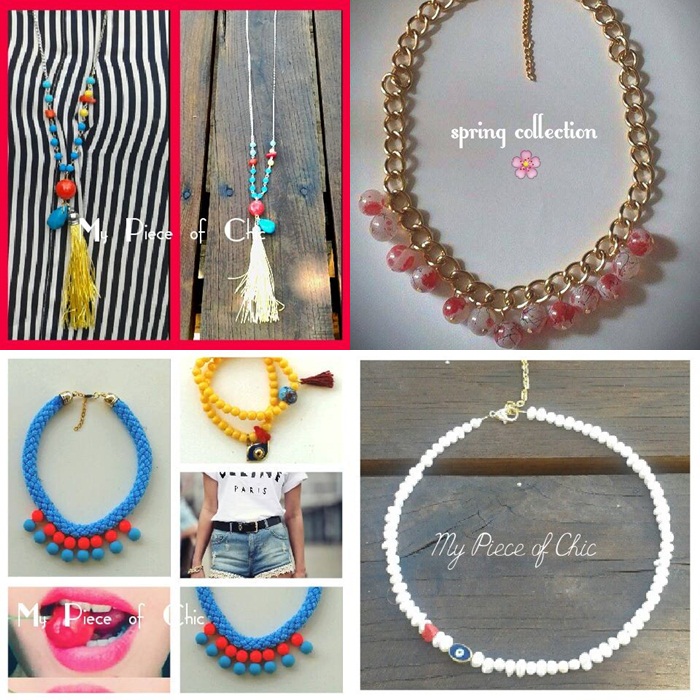 9) SBT: Which is the biggest excitement you get from your work?

Something that I like a lot, is when I see girls on the street wearing one of my creations. I get so excited that I want to go to them and ask to take a picture.
10) SBT: Which are your future plans/dreams? 
They're complicated! I'd like to continue doing what I do, and be creative! Time will tell from there. I like my current job a lot. I love working in education and of course I want to go on creating jewellery. I don't know how these 2 are combined. As I said, time will tell.
11) SBT: Would you like to give us some wishes for Stylishly Beautiful's first anniversary?
It's truly a fantastic site! I love its bloggers, their reviews, and suggestions! I wholeheartedly wish you to continue in the same dynamic way, and to keep multiplying your readership. I honestly like Stylishly Beautiful… It is very fresh and special.
Find Alexia's creations here:
My Piece of Chic Facebook page