Meet the blogger | Do You Speak Gossip?
Stylishly Beautiful introduces a new column today, (another one we'd been planning since the start of this site), which is going to be called "Meet the blogger", and it's going to host interviews of bloggers/vloggers/youtubers we follow and we'd like to know more about. But before starting those interviews, we thought you might enjoy getting to know us (the Stylishly Beautiful Team) better first. As the founder and let's say "editor-in-chief" of our little online fashion & beauty magazine, my team thought I should go first. So they've prepared their questions and I'm here today with my answers to them. I hope you enjoy this interview!
1) Stylishly Beautiful Team (from now on SBT): Tell us a few things about yourself.
Markella: My name is Markella, and I'm a marketing & advertising graduate from Thessaloniki, Greece, currently unemployed, but working 24/7 on my personal style blog "Do You Speak Gossip?" and on our newly launched site (this one! 😛 ). I enjoy travelling and taking photos of everything you can imagine, and at the same time, I love spending time with my boyfriend, and friends, some of whom I had the luck of getting to know through blogging.
2) SBT: How did you decide to create your blog?
Markella: I won't say that I was always interested in fashion… because I wasn't, but I always had my sense of style (which of course has been through many phases, over the years). I started getting interested in the fashion industry some years ago, and I discovered blogging around the same time. Even though I started blogging about different things, my goal from the start was to go into personal style blogging, as I wanted to share my style, with people who had the same interests, and love for style & fashion. And if I have to be honest, taking photos of my outfits was something I was already doing, just for keeping a log on what I wore on certain occasions. So I loved the idea of creating a blog, and express myself in more creative ways.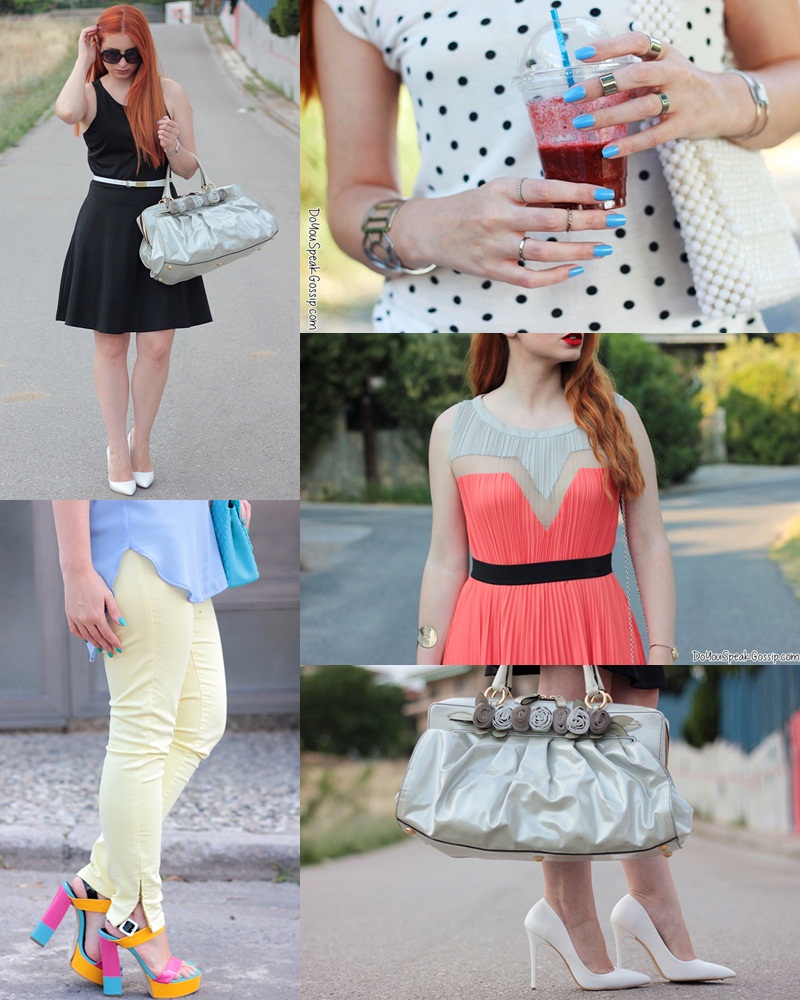 3) SBT: What inspired the name of your blog?
Markella: I'm sure that all girls interested in fashion were obsessed with the TV series Gossip Girl, and I was no exception! So the name of my blog is obviously inspired by the series, and the fashion in them. Of course at first, I wanted to create a site similar to Gossip Girl, or at least, something to do with Gossip Girl fashion, so I found that name a clever wordplay, and even though my thematology changed even before starting the blog, the name stayed with me.
4) SBT: Which are the 5 key pieces, in your opinion, everyone should have in their closet?
Markella: It's hard to pick just 5 pieces, but I'll do my best. I'd say: a pair of skinny jeans, a pair of black pants, a pair of nude or black heels, a nice blazer, and a black or camel coat.
5) SBT: How would you describe your style?
Markella: My style would better be described as ladylike (feminine) chic or just casual chic. I love buying classic pieces that can be in my wardrobe forever and combine them with more current ones, depending on the trends, and my mood. I think that till now, I've figured out what looks good on me and what not and I'm trying to dress accordingly.
6) SBT: What would be your advice to a girl who wants to look stylish?
Markella: My advice would be to take into consideration her body type and dress according to what suits her best. If you have big bottom and thighs (like I do), a midi skirt would look much better on you than a mini skirt. Also, avoid having too much skin exposed at the same time, if you want to keep it classy: if you go for a mini skirt, don't show too much cleavage. That's just my opinion of course.
7) SBT: What's "blogging" for you?
Markella: Blogging for me is a creative outlet; a way to express myself through style & fashion and beautiful photography. Something that started as a hobby and evolved into something much bigger and I'm hoping for it to evolve even more in the future and open up new opportunities.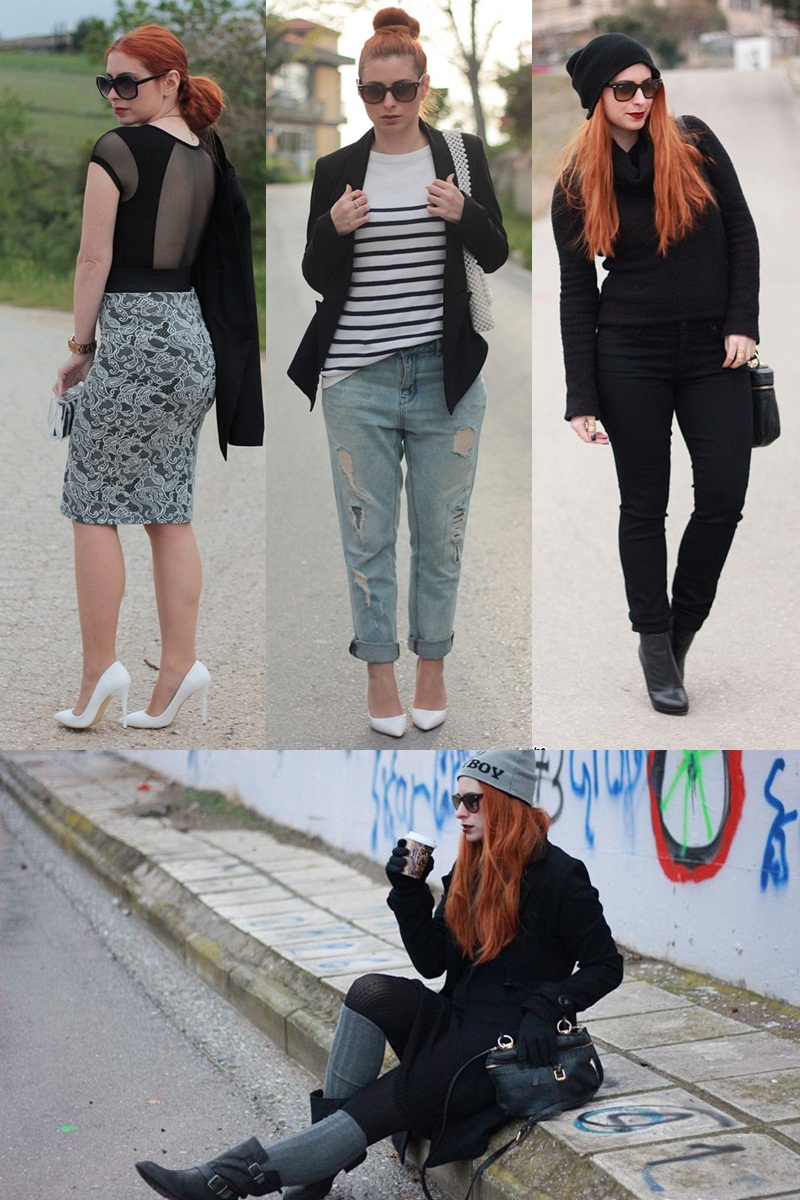 8) SBT: What would you advise someone who wants to start blogging?
Markella: Blogging, despite the common misconception, requires a lot of free time, strong determination and hours and hours of hard work. It's not only what you see on your screens when you're visiting a blog, or read a recent post. There's usually a lot of work required, for what you end up seeing in a post. So I want all potential new bloggers, to be aware of that, and be sure of the reasons why they're starting a blog. You must love the things you blog about, otherwise people would be able to tell and won't go on reading your blog. If you're starting to blog, just because you want free products, or money, or fame, then you might want to reconsider.
9) SBT: What would you say is the best and the worst part of blogging?
Markella: The best part is definitely getting to meet new people with common interests, either they're also bloggers, or just readers who love your work and encourage you every day.
The worst part is when some bloggers receive so many negative (and even nasty) comments about their work from people hiding behind their computers and their anonymity; some of which can even be described as cyber-bullying. Unfortunately exposure is not always good, and the internet is full of such people. You just have to find the strength to ignore them and go on with what you do.
10) SBT: What are your plans for the future?
Markella: My plans for my blog(s) are to get them more well-known in the future and increase their traffic. As for my personal life, is to find a job in the field of my studies, which will allow me to have some free time for my blogs as well, because there's no way I'm gonna stop updating them regularly.
10 + 1) SBT: Our final question is: Tell us a few things we may not know about you.
Markella: I think you know most things about me, but let's see. I'm a very shy person, I blush when I'm getting compliments or when the attention is on me, I love food way too much and I'm a self-proclaimed shoe addict (I especially love high heels).
You can find me on: